Blue Cross Blue Shield (BCBS) Uninsured (ASO) Fees Analysis
July 29, 2022
Blue Cross and Blue Shield (BCBS) entities and their affiliates reported receiving $18.7 billion in reimbursements from uninsured plans in 2021, an 18% hike from the $15.8 billion reported in 2017. Reimbursement from uninsured plans is more commonly known as administrative fees from self-insured accounts. Understanding the amounts of administrative fees collected by insurers for self-insured business is often a mystery for analysts studying this sector of the health insurance industry. After analyzing the multiple sources of administrative fees found in statutory filings from the National Association of Insurance Commissioners (NAIC), available in Mark Farrah Associates' (MFA's) Health Coverage Portal™, MFA found congruity, consistency, and reliability in assessing this data over time.
As previously reported*, health insurance companies in 2021 provided fully-insured coverage for over 181.6 million people. Additionally, an estimated 123.3 million people received health coverage from an employer or other sponsor that self-insures most medical expenses. These sponsors contract with an insurance company or independent third-party administrator (TPA) for plan administration and pay fees for these services. The NAIC refers to the coverage offered by a self-insured sponsor as an uninsured plan and the administrative fees collected by an insurance company from these plans as reimbursements or fees or income from uninsured plans. The services, provided by a TPA or traditional insurer, are often done under an administrative services only (ASO) agreement or an administrative services contract (ASC). Most traditional insurance companies report fees collected through uninsured plans in three locations in their statutory filings with the NAIC. While assessing data on BCBS organizations and their affiliates (referred to collectively as Blues), MFA analyzed the five-year period between 2017 and 2021 of Blues performance in the ASO/ASC segment.
MFA's Blues analysis found, in addition to offering fully insured coverage, Blues organizations receive fees from uninsured plans that provide coverage for 61.6 million people roughly half of the people receiving coverage through self-insured plans in 2021. In the last five years, these same companies increased enrollment by 2.8 million people. Blues entities and their affiliates reported receiving $18.7 billion in reimbursements from uninsured plans in 2021, an increase of $2.9 billion from 2017. Elevance Health, the new name of Anthem Inc.; Health Care Service Corporation (HCSC); Highmark, and Blue Cross Blue Shield of Michigan (BCBS of MI) all collected over $1 billion in reimbursements by uninsured plans in 2021.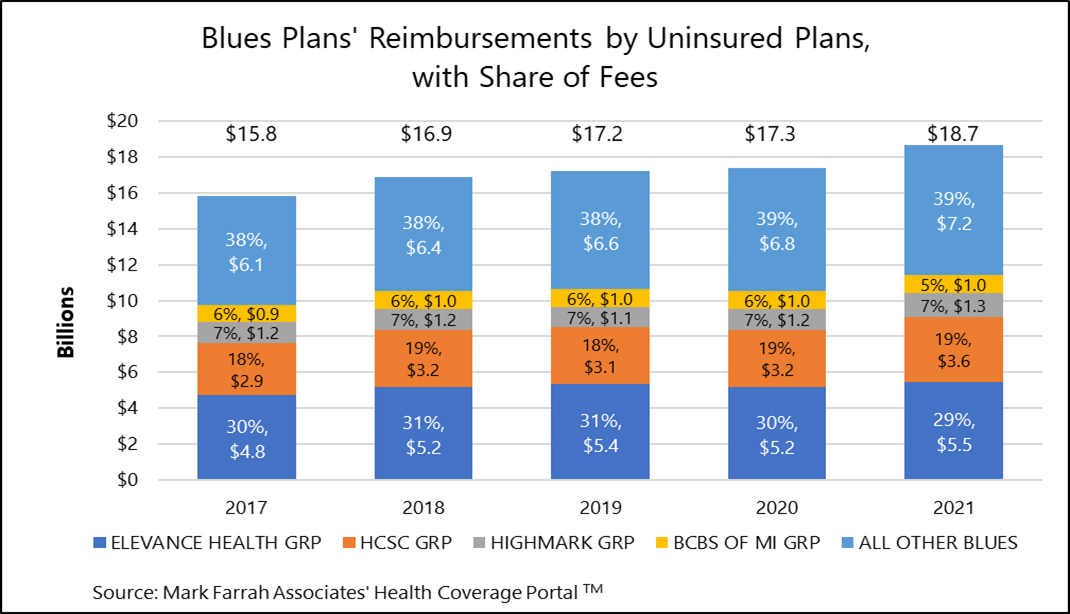 Elevance Health, with Blues plans in 14 states, has the largest share of administrative fees collected by Blues entities at 29% for 2021. Despite increasing fees from $4.8 billion in 2017, to $5.5 billion in 2021, Elevance Health's share of total Blues' fees is down from a high of 31% in 2018 and 2019 to 29% in 2021.
HCSC, which operates Blues plans in Illinois, Montana, New Mexico, Oklahoma and Texas, reported reimbursement for administrative fees of $3.6 billion.
Highmark, with Blues plans in Pennsylvania, Delaware, West Virginia, and New York, has the third highest share of fees. Highmark completed its affiliation with HealthNow New York Inc. in March of 2021; however, for illustration purposes, Highmark's data shown above includes HealthNow for all years.
BCBS of Kansas; CareFirst, serving residents of Maryland, Washington, D.C. and Northern Virginia; BCBS of Arizona; and Independence Blue Cross, based in Pennsylvania, were among the other Blues plans with significant gains in reimbursements for administrative fees in the last five years.
* MFA Healthcare Business Strategy Brief: Five-Year Health Enrollment Trend for Blue Cross Blue Shield (BCBS) and Non-BCBS Companies, April 13, 2022.
About the Data
The data used in this analysis was obtained from Mark Farrah Associates' Health Coverage Portal™ database. Findings reflect reimbursements of uninsured fees reported by carriers with business in the U.S. and U.S. territories. Data sources used in the above report include statutory financial filings with the National Association of Insurance Commissioners (NAIC), including the Analysis of Expenses, Notes to the Financial Statements and Supplemental Health Care Exhibits. California (CA) based plans that file statutory reports with the California Department of Managed Health Care (CA DMHC), including Blue Shield of CA, do not file any exhibits with administrative fees and are excluded from the above results.
About Mark Farrah Associates (MFA)
Mark Farrah Associates (MFA) is a leading data aggregator and publisher providing health plan market data and analysis tools for the healthcare industry. Our product portfolio includes Health Coverage Portal™, County Health Coverage™, Medicare Business Online™, Medicare Benefits Analyzer™, 5500 Employer Health PLUS, and Health Plans USA™. For more information about these products, refer to the informational videos and brochures available under the Our Products section of the website or call 724-338-4100.
Healthcare Business Strategy is a FREE monthly brief that presents analysis of important issues and developments affecting healthcare business today. If you would like to be added to our email distribution list, please submit your email address to the "Subscribe to MFA Briefs" section at the bottom of this page.