Five-Year Health Enrollment Trend for Blue Cross Blue Shield (BCBS) and Non-BCBS Companies
April 13, 2022
Health insurance companies in 2021 provided fully-insured coverage for over 181.6 million people, an increase of 14.8 million from 2017. Blue Cross Blue Shield (BCBS) Association members, parent organizations, and their subsidiaries insured 30% of the total market, a 0.3% increase from 2017. In this brief, Mark Farrah Associates (MFA) examines the health insurance enrollment changes by segment between BCBS and non-BCBS companies during the five-year span between 2017 and 2021.
Total health enrollment for non-BCBS reporting plans decreased from 117.3 million covered lives in 2017 to 115.5 million in 2018 and declined again to 115.0 million in 2019. Enrollment rebounded to 122.7 million in 2020. In 2021, non-BCBS plans reported 127.1 million members, for a net gain of over 9.8 million members since 2017. After a decline in enrollment between 2017 and 2018, BCBS plans reported total enrollment gains every year from 2018 through 2021, with enrollment increasing from 49.6 million, in 2017, to 54.6 million, in 2021. Combined BCBS and non-BCBS reporting plans showed a membership gain of roughly 8.9% from 2017 through 2021.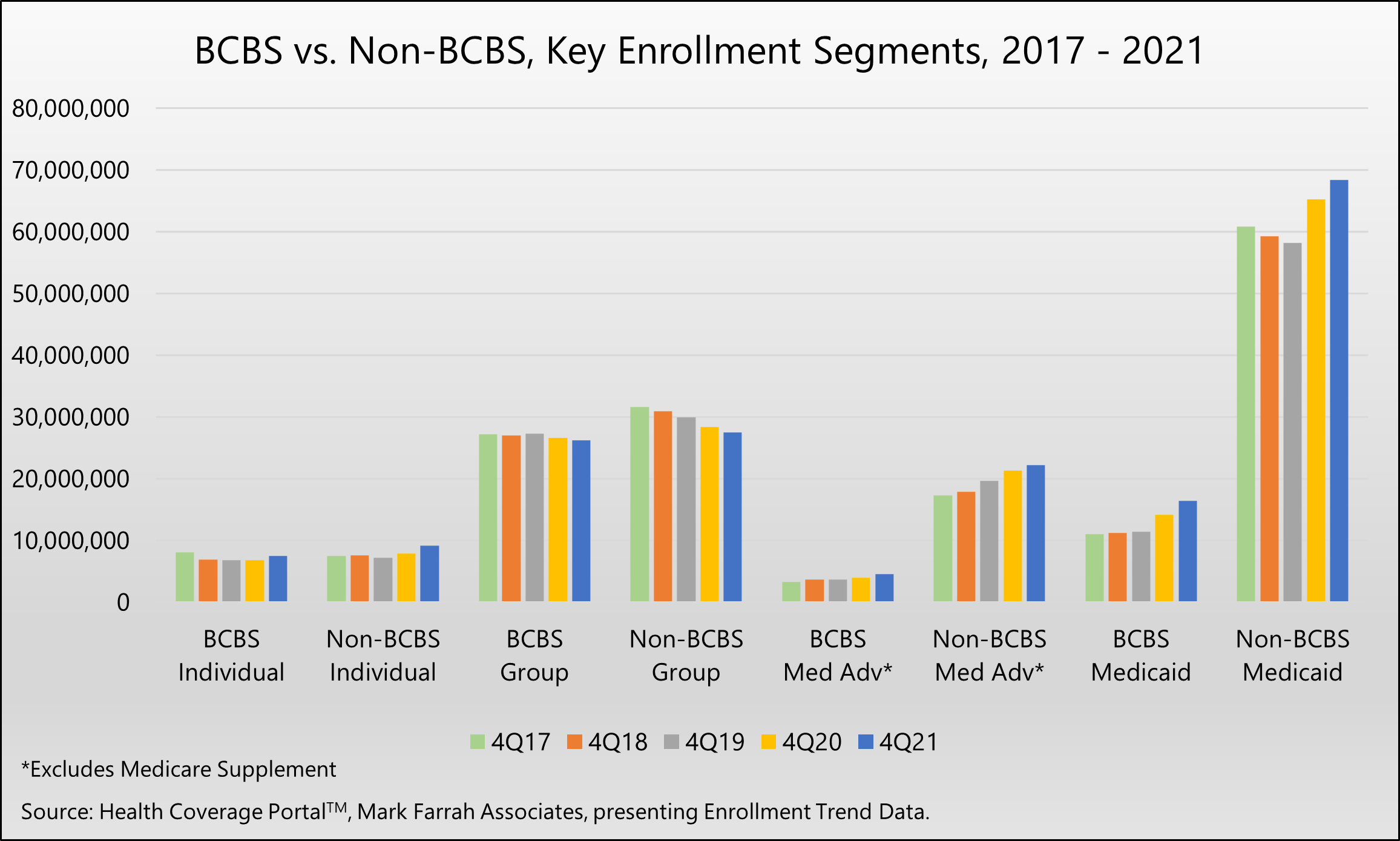 Individual enrollment for BCBS companies decreased -7.7% over the last 5 years, while non-BCBS companies reported a 21% increase in the same period. There are signs of growth for BCBS companies, however, as Individual enrollment in that segment grew by 680,000, in 2021, after years of negative enrollment metrics.
Fully insured Group enrollment, which includes the Federal Employees Health Benefits Program (FEHBP), experienced consistent decreases throughout the observed timeframe, with plans reporting losses of approximately 1 million (-3.8%) in BCBS enrollment and 4.2 million (-13.3%) in non-BCBS enrollment.
Medicare Advantage (Med Adv) enrollment increased by 1.3 million for BCBS companies, representing a 38.8% increase, while non-BCBS enrollment increased by 4.9 million, a 28% increase.
Medicaid enrollment for BCBS reporting plans expanded by 48.6%, with an increase of approximately 5.4 million members since 2017. Despite initial declines in membership, non-BCBS Medicaid plans grew by over 7 million, in 2020, and 3.1 million, in 2021, for a total increase of nearly 12.5% from 2017 to 2021.
About the Data
The data used in this analysis was obtained from Mark Farrah Associates' Health Coverage Portal™ database. Findings reflect enrollment reported by carriers with business in the U.S. and U.S. territories. Data sources include the National Association of Insurance Commissioners (NAIC) and the California Department of Managed Health Care (CA DMHC) statutory filings.
About Mark Farrah Associates (MFA)
Mark Farrah Associates (MFA) is a leading data aggregator and publisher providing health plan market data and analysis tools for the healthcare industry. Our product portfolio includes Health Coverage Portal™, County Health Coverage™, Medicare Business Online™, Medicare Benefits Analyzer™, 5500 Employer Health PLUS, and Health Plans USA™. For more information about these products, refer to the informational videos and brochures available under the Our Products section of the website or call 724-338-4100.
Healthcare Business Strategy is a FREE monthly brief that presents analysis of important issues and developments affecting healthcare business today. If you would like to be added to our email distribution list, please submit your email address to the "Subscribe to MFA Briefs" section at the bottom of this page.