Trends in Health Insurer Market Shifts from Commercial Risk to Government Business
March 30, 2023
Mark Farrah Associates (MFA) previously reported that the commercial risk market declined from 73.4 million to 70.4 million enrollees between 3Q18 and 3Q22, with the top five insurers continuing to control 45% of the market over the last five years.[1] During this period, at least two carriers have responded to this trend by dropping private insurance in favor of government programs. Utilizing MFA's 5500 Employer Health plus (5500 EHP), Health Coverage Portal (HCP), and County Health Coverage (CHC) products, analysts identified ways to assist remaining carriers and interested parties in identifying key employers, brokers, and administrators impacted when a carrier decides to no longer participate in a specific market. In this brief, Mark Farrah Associates (MFA) analyzes health insurer trends and insights regarding market shifts from commercial risk to government business, focusing on two major carriers: Fallon Health Group and Humana.
Fallon Health Group was one of the first carriers to announce a shift in focus. In March of 2021, the Massachusetts-based insurer reported it had decided to predominantly focus on Medicare and Medicaid programs.[2] Fallon made this decision after declining commercial risk numbers for several years. As illustrated in the graph below, Fallon's commercial risk enrollment in Massachusetts consistently decreased over the period, dropping over 42,000 members (-70.9%) from 2018 to the end of 2022. While Medicare enrollment remained constant, Medicaid numbers grew by 26.8%, with the biggest gain in enrollment occurring in 2020, the year leading up to Fallon's announcement.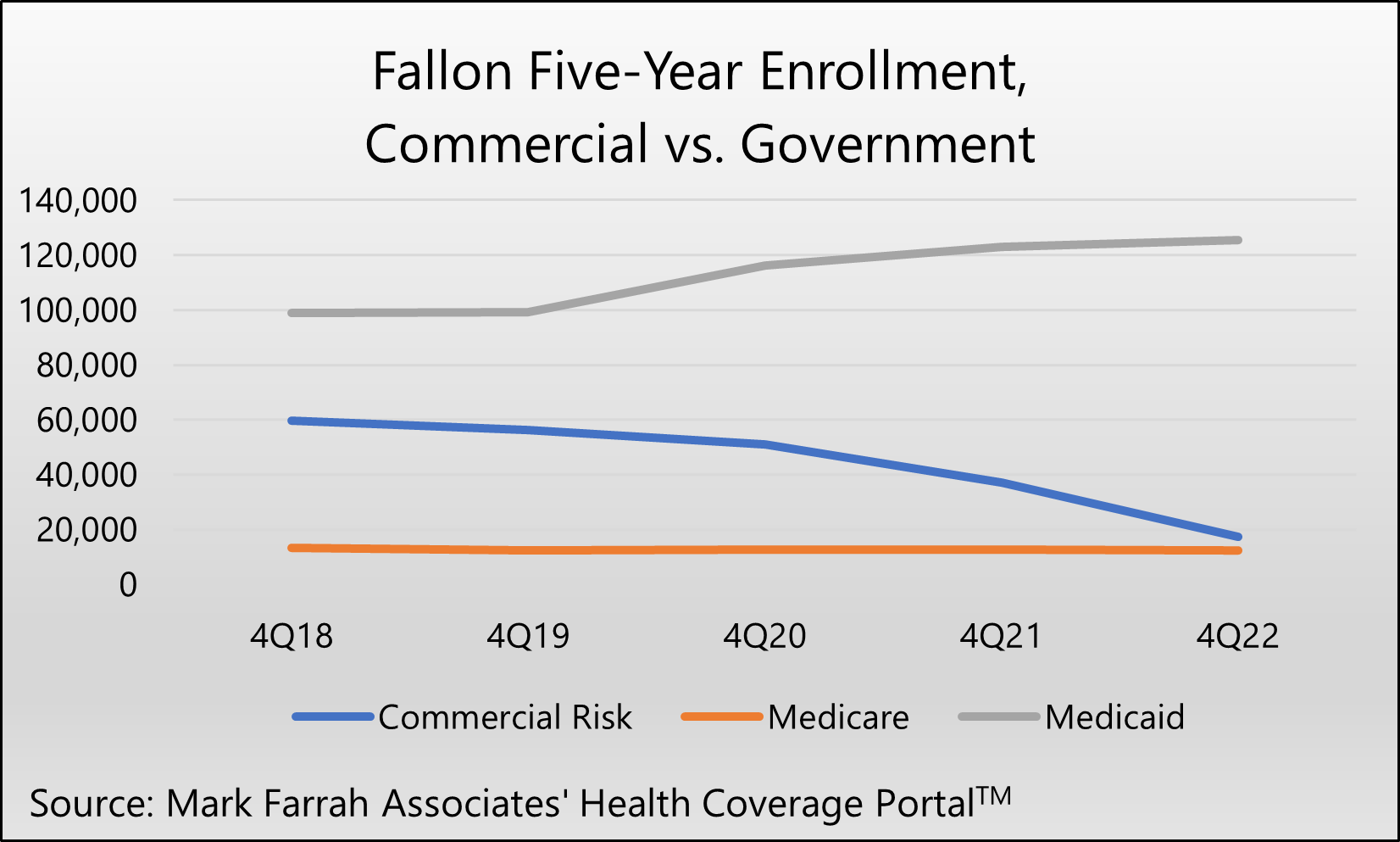 Examining MFA's 5500 EHP Employer Filings, regarding Insurers, in 2018, Fallon was the insurer for 62 employers/sponsors. By year-end 2020 that number was 44. Current 2021 records indicate 22 employers, representing 4,400 insured and approximately 8,100 participants, remaining with Fallon the year after the announcement. According to 2021 filings, there are 11 brokers working with Fallon, the three largest of which are Group Insurance Solutions Inc., NFP Corporate Services, and Brewer & Lord LLC/Hub International. Fallon also served as the administrator for two non-government welfare plans in Massachusetts, covering 1,300 participants in the Harrington Memorial Health Plan (via Harrington Healthcare System) and 1,400 participants under the Teamsters Local 170 Health and Welfare Fund. Fallon's remaining accounts are expected to be fully transitioned to other carriers in 2023.
The second carrier, and a more recent, national example, is Humana Inc. In February of 2023, the company announced its plans to exit the employer group market to focus on its government business lines.[3] Although the announcement was just made, Humana's enrollment by segment data, available in MFA's HCP, suggests a similar trajectory, as identified above with Fallon, for the years leading to Humana's decision. Commercial risk for Humana has decreased 37.7% since year-end 2018, representing a drop of approximately 590,000 insured. Medicaid enrollment for Humana nearly doubled from 500,000 to over 1 million, and Medicare grew nearly 1.4 million in the same time frame.[4]
As Humana's transition out of the commercial risk market continues, employers and employees in Texas, Georgia, and Kentucky will be most impacted, followed close behind by those in Florida, Wisconsin, and Ohio. Below is a national map of private enrollment for Humana, illustrating where Humana's 1.4 million commercial members are located. Based on 5500 EHP data, Humana's top employers that may be transitioning to new carriers and/or plan administrators include ADP Totalsource, Inc., headquartered in Roseland, New Jersey, Exelon Corporation (headquartered in Chicago, Illinois), and Michelin North America, Inc., based in Greenville, South Carolina.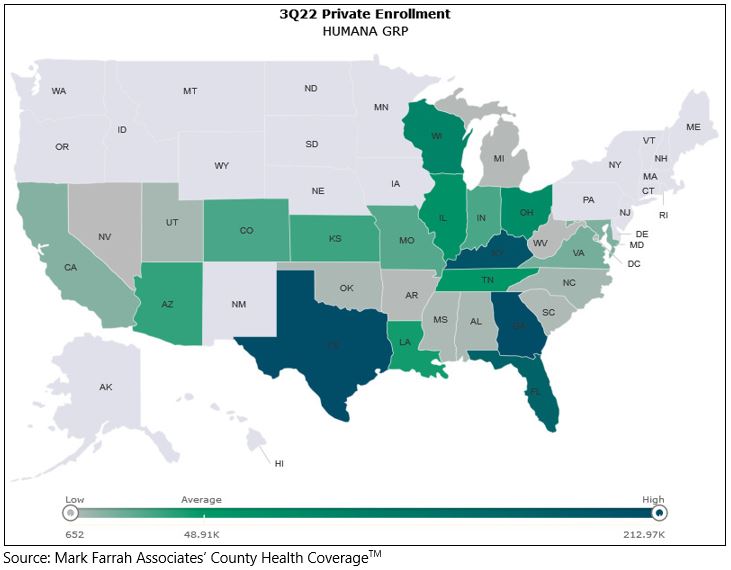 MFA's 5500 EHP data also indicates the following:
Key brokers working with Humana are Assured Partners, Keystone Insurance, and AP Benefit Advisors LLC.
Key consultants working with the company include Aon Consulting, Mercer Health & Benefits, and PIASC Insurance Services.
Humana functions as the welfare plan administrator for several employers/sponsors across the country, covering nearly 378,000 participants. The Central States Pension Fund is the largest, followed by Humana's own Multi Benefit Plan, and Fidelity Group's Employee Medical, Dental, and Cafeteria Plan.
Fallon and Humana represent only a portion of the declining commercial market and, as the shift towards government business persists, more companies are expected to follow. Mark Farrah Associates will continue to monitor this ongoing trend, using 5500 Employer Health plus and its other products, as well as relevant sources, to maintain an accurate database of insurers and their business relationships. Please follow MFA's Healthcare Business Strategy Reports for more health insurance business insights.
About 5500 Employer Health plus
Form 5500 is a primary source of employer information about health and welfare benefits, as well as pension plans. MFA's 5500 Employer Health plus uniquely focuses on health & ancillary benefits purchased by private sector employers and the relationships employers have with contracted insurers, administrators, and brokers. The user interface allows for both detailed and summary level data retrieval. Data sources include Form 5500 filings and related schedules for companies that indicate they provide health & welfare benefits.
About Mark Farrah Associates (MFA)
Mark Farrah Associates (MFA) is a leading data aggregator and publisher providing health plan market data and analysis tools for the healthcare industry. Our product portfolio includes Health Coverage Portal™, County Health Coverage™, 5500 Employer Health plus, Medicare Business Online™, Medicare Benefits Analyzer™, and Health Plans USA™. For more information about these products, refer to the informational videos and brochures available under the Our Products section of the website or call 724-338-4100.
Healthcare Business Strategy is a FREE monthly brief that presents analysis of important issues and developments affecting healthcare business today. If you would like to be added to our email distribution list, please submit your email to the "Subscribe to MFA Briefs" section at the bottom of this page.