Top Insurers' Membership Mix and Financial Metrics
February 24, 2022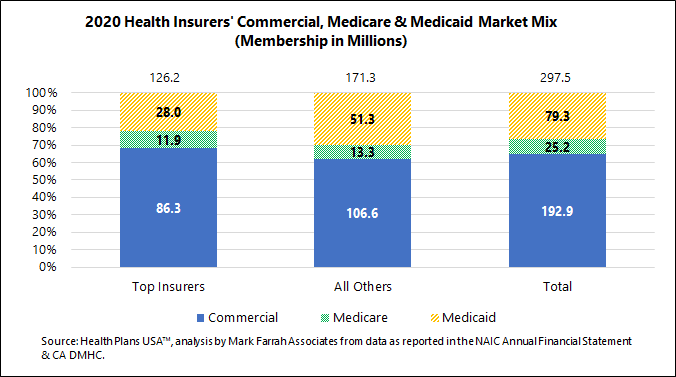 The top five health insurers, based on enrollment at yearend 2020, covered 126.2 million people, roughly 42% of the people insured in the United States. These top insurers − UnitedHealth, Anthem Inc., CVS Health, Health Care Service Corp. (HCSC), and Centene − offer products through three primary markets: Commercial, which consists of individuals purchasing insurance privately, through federal and state exchanges, or through employers; Managed Medicare, often known as Medicare Advantage; and Managed Medicaid programs. They also offer other types of coverage, including Medicare Supplement, stand-alone prescription drug plans, dental, vision and additional product options. Understanding the market mix differences is useful for those looking to do business with health plans. Mark Farrah Associates' Health Plans USA™, that was used for this analysis, is a valuable tool for comparing market mix, market share and other information about health plans, nationwide and includes company contacts.
Combined, over 41% of these top carriers' total enrollment is from the Commercial market.
The remaining 640 health insurers, throughout the country, have 58% of their business from Other products.
UnitedHealthcare, the health insurance market leader, has 35% of its health insurance business through Commercial plans, while 49% of its enrollment is from Other products.
Anthem, the second largest health insurance carrier, has more than 54% of its enrollment through Commercial business, while only 28% is coming from Other products.
Centene has higher revenue than CVS Health's insurance business and HCSC. Around 47% of Centene's business is through state Medicaid programs.
Market mix influences revenue, medical and administrative expenses, and other financial metrics, such as medical loss ratios (medical expense divided by premiums) and administrative expense ratios (administrative expenses divided by revenue), which can be derived from data in Health Plans USA.

Health Plans USA™ is a valuable tool for analyzing market share for health plans nationwide and includes company contacts. This online database gives you access to annual enrollment, revenue and expenses for Commercial Risk, ASO, Medicare and Medicaid plans. It includes company contact information for sales and marketing outreach, company snapshots offering a quick review of each health plan and a user-friendly web table design with easy-to-navigate tables and download to Excel capability. Annual 2021 data will be available in April of 2022.
About Mark Farrah Associates (MFA)
Mark Farrah Associates (MFA) is a leading data aggregator and publisher providing health plan market data and analysis tools for the healthcare industry. Our product portfolio includes Health Coverage Portal™, County Health Coverage™, Medicare Business Online™, Medicare Benefits Analyzer™, Health Plans USA™ and 5500 Employer Health plus. For more information about these products, refer to the informational videos and brochures available under the Our Products section of the website or call 724-338-4100.
Healthcare Business Strategy is a FREE monthly brief that presents analysis of important issues and developments affecting healthcare business today. If you would like to be added to our email distribution list, please submit your email to the "Subscribe to MFA Briefs" section at the bottom of this page.