Marginal Year-over-Year Increases in Medicaid Managed Care Enrollment
July 11, 2018
According to Kaiser State Facts Total Monthly Medicaid and CHIP Enrollment, average monthly enrollment before the Affordable Care Act (ACA) was enacted was 56.8 million. As of December 2017, total Medicaid and Children's Health Insurance Program (CHIP) enrollment was 74.6 million. This represents an increase of approximately 17.8 million covered lives, or 31 percent, when compared to the population of Medicaid recipients prior to ACA implementation. Medicaid remains the largest health program in the United States as measured by enrollment, although the program has been a topic of unsettled debate amongst U.S. policy makers for years.
Medicaid enrollment in Managed Care Organizations (MCOs) continues to rise due in part to ACA Medicaid expansion and states that have expanded their managed care programs to new regions. Mark Farrah Associates (MFA), a leading data aggregator and publisher of health plan market data, reported total U.S. enrollment in managed Medicaid plans increased only slightly as of December 2017, according to data collected by state regulators to the Centers for Medicare & Medicaid Services (CMS) and by insurers through the National Association of Insurance Commissioners (NAIC). However, several of the top Medicaid managed care plans experienced enrollment declines in 2017. This report provides a brief overview of year-over-year managed Medicaid market trends with insights about leading companies competing in this segment.
Eligibility and Expansion
There is no doubt that attempts to reform Medicaid have created significant political challenges over the years. Recent developments continue to focus on more states pursuing Medicaid expansion, new guidance for Section 1115 waiver proposals, and increasing initiatives of states moving more beneficiaries to managed-care plans.
The expansion of Medicaid programs under the ACA has resulted in enrollment gains, improvements in health care access and affordability, and economic benefits for states and providers. To date, 34 states including the District of Columbia chose to expand their Medicaid programs under the ACA, with Maine and Virginia being the latest to adopt expansion. Of the remaining states that have not yet expanded, Utah, Idaho and Nebraska have initiated plans to expand.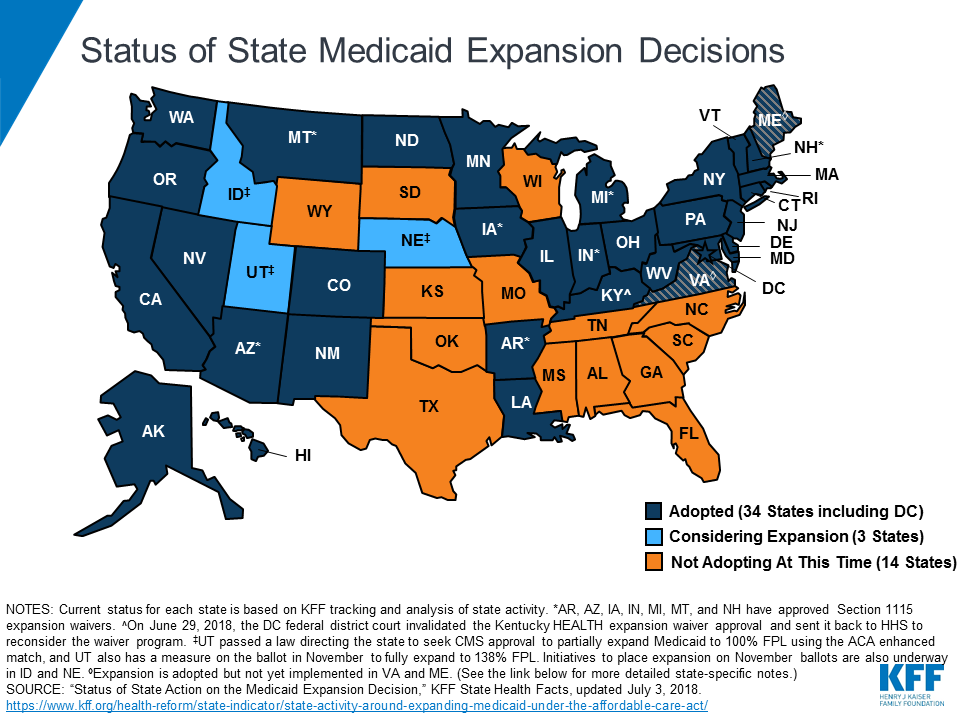 Additionally, more states are taking advantage of section 1115 demonstration waivers which provide increased flexibility to improve state Medicaid and CHIP programs. In January 2018, CMS proposed new eligibility guidance for Section 1115 waiver demonstrations that impose work requirements. According to Kaiser Family Foundation, as of July 2, 2018, there are 45 states with approved waivers and 23 states with pending waivers. Some requests apply to traditional populations while others are part of ACA expansion waivers;
Managed Care Enrollment and Market Share
Managed Care Organizations continue to be the primary delivery system for Medicaid in the U.S. as states are increasingly adopting capitated managed care models. Forty-three states currently have some type of MCO plan in place. Out of the 7 remaining states, North Carolina and Oklahoma are beginning to implement MCOs. Although advocates continue to push for expansion, in an attempt to reform its Medicaid program, North Carolina Medicaid and NC Health Choice programs made the decision to move to a managed care delivery system pending federal approval with a projected start date of July 1, 2019. Switching Medicaid patients to MCOs has helped to create a more predictable and efficient approach to controlling the costs and quality of health services.
The best available sources of Medicaid managed care enrollment by company are the statutory financial statements filed with state regulators and the NAIC (National Association of Insurance Commissioners) and the CA DMHC (California Department of Managed Health Care). Though not fully representative of all state Medicaid programs, this data provides a useful means of assessing Medicaid market share and competition. It is important to keep in mind an additional 25.1 million Medicaid members are enrolled by companies or through funding arrangements not included in the statutory financial data used for this assessment. This data represents approximately 66% of all Medicaid beneficiaries enrolled.
Leading Medicaid Managed Care Companies
Membership Trend
Company
4Q16
Market Share
4Q17
Market Share
Centene
6,158,349
12%
6,068,356
12%
United
4,906,105
10%
5,394,498
11%
Anthem
5,168,216
10%
5,137,923
10%
Molina
3,377,340
7%
3,323,279
7%
Wellcare
2,150,790
4%
2,291,032
5%
All Others
27,612,746
56%
27,287,782
55%
Total
49,373,546
100%
49,502,870
100%
Source: Mark Farrah Associates' Health Coverage Portal™/Statutory Insurance Filings
At year-end 2017, total managed Medicaid membership reported through statutory financial statements was 49.5 million, according to Mark Farrah Associates' (MFA) latest Medicaid enrollment statistics from the Health Coverage Portal™. Many of the top five managed care companies – Centene, UnitedHealth, Anthem, Molina and Wellcare – experienced enrollment decreases, and total year-over-year managed Medicaid membership only increased by 129,324; a substantial difference from the 3.13 million increase between 4Q15 and 4Q16 related to Medicaid expansion.
Centene, the company with the largest book of Medicaid managed care business, commanding 12 percent of the market, had a decrease in membership from 6.16 million at 4Q16 to 6.07 million members at 4Q17. Among the top five managed care plans, only UnitedHealth and Wellcare gained membership with growth of 488,393 and 140,242, respectively. Overall, these top five Medicaid companies control 45 percent of the total Medicaid managed care market.
About Mark Farrah Associates (MFA)
Mark Farrah Associates (MFA) is a leading provider of health plan market data and analysis tools for the healthcare industry. If your company relies on accurate assessments of health plan market share to support business planning, we encourage you to contact us to learn more about our products. Our portfolio includes Health Coverage Portal™, County Health Coverage TM, Medicare Business Online™, Medicare Benefits Analyzer™ and Health Plans USA™ - - www.markfarrah.com.
Healthcare Business Strategy is a FREE monthly brief that presents analysis of important issues and developments affecting healthcare business today. If you aren't on our email distribution list, click here to subscribe now.