Dental Insurance Enrollment Trends
April 21, 2022
The fully-insured segment of the U.S. dental Insurance market has been gradually declining over the last five years, as employers and government program managers shift their business to self-insured options. According to an analysis done by Mark Farrah Associates (MFA), utilizing the latest data from its Health Coverage PortalTM product, fully-insured dental plans covered 86.5 million people on December 31, 2021, down from 100.4 million on December 31, 2017. This segment of the insurance industry has a diverse, competitive landscape, with the top five dental insurers in 2021 covering less than 50% of the total market. While it has been moderately stable from 2017 to 2021, that stability is starting to shift as UnitedHealthcare, the only top insurer to gain significant market share between 2017 and 2021, has been on an acquisition spree in the dental, medical, and health plan markets.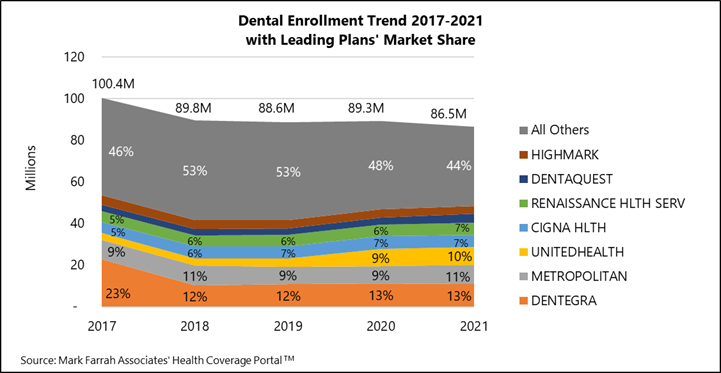 UnitedHealth Group (UHG) gained over 4.3 million dental members with its acquisition of MCNA Dental in 2020. Other UHG acquisitions include: in 2019, four dental insurers with 264,000 total covered lives; in 2020, three dental insurers with 65,000 total covered lives; and in 2021, one dental insurer with 232,000 covered lives. Additionally, UHG added 859,000 dental members from 2017 to 2021 through existing subsidiaries.
Dentegra, Renaissance Health Services, DentaQuest, and other specialty insurers cover 74% of the dental insurance market while medical plans, who offer dental products in their portfolios, cover the other 26%.
Dentegra, the leading dental insurance company in the United States for the last five years, had a 13% share of the fully-insured dental market in 2021. Between 2017 and 2018, its subsidiary, Delta Dental of California, converted the state's Medi-Cal contract from fully-insured to self-insured, involving nearly 12.8 million members.
Dentegra and Renaissance Health Services have subsidiaries involved with the Delta Dental Plans Association, a network of 39 independent Delta Dental companies operating in all 50 states, Puerto Rico, and other U.S. territories.
Metropolitan offers dental plans under four subsidiaries: Metropolitan Life Insurance Company, Delaware American Life, Safeguard Health Plans, and Met Life. As of December 31, 2021, nearly 9.1 million of Metropolitan's 9.3 million dental members are insured through Metropolitan Life Insurance Company.
About the Data
The data used in this analysis was obtained from Mark Farrah Associates' Health Coverage Portal™ database. Findings reflect enrollment reported by carriers with business in the U.S. and U.S. territories. Data sources include the National Association of Insurance Commissioners (NAIC) and the California Department of Managed Health Care (CA DMHC) statutory filings.
About Mark Farrah Associates (MFA)
Mark Farrah Associates (MFA) is a leading data aggregator and publisher providing health plan market data and analysis tools for the healthcare industry. Our product portfolio includes Health Coverage Portal™, County Health Coverage™, Medicare Business Online™, Medicare Benefits Analyzer™, 5500 Employer Health Plus, and Health Plans USA™. For more information about these products, refer to the informational videos and brochures available under the Our Products section of the MFA website or call 724-338-4100.
Healthcare Business Strategy is a FREE monthly brief that presents analysis of important issues and developments affecting healthcare business today. If you would like to be added to our email distribution list, please submit your email address to the "Subscribe to MFA Briefs" section at the bottom of this page.