An Analysis of Expenses: Postage, Express, and Telephone Expenditures by Health Insurance Companies in 2019
January 12, 2021
While enrollment metrics are effective illustrators of health insurance company performance, supplementing that data with expense reporting can yield interesting comparisons. In 2019, health insurance companies incurred operating expenses totaling nearly $90.1 billion, with line-items ranging from rent, legal fees, marketing, printing, and even depreciable equipment. Of that total, almost $1.9 billion, or approximately 2%, was attributed specifically to postage, express, and telephone expenditures. The top ten companies reporting that expense accounted for roughly $1.2 billion (63%) of the spending on that one line-item.
Upon further investigation of the top 10 insurers, UnitedHealth contributed 31% of the spending, with Humana following at 23%. Anthem accounted for 17%, and the remaining seven parent companies comprised the final 29%. The breakdown of the top ten parent companies can be found in the chart below.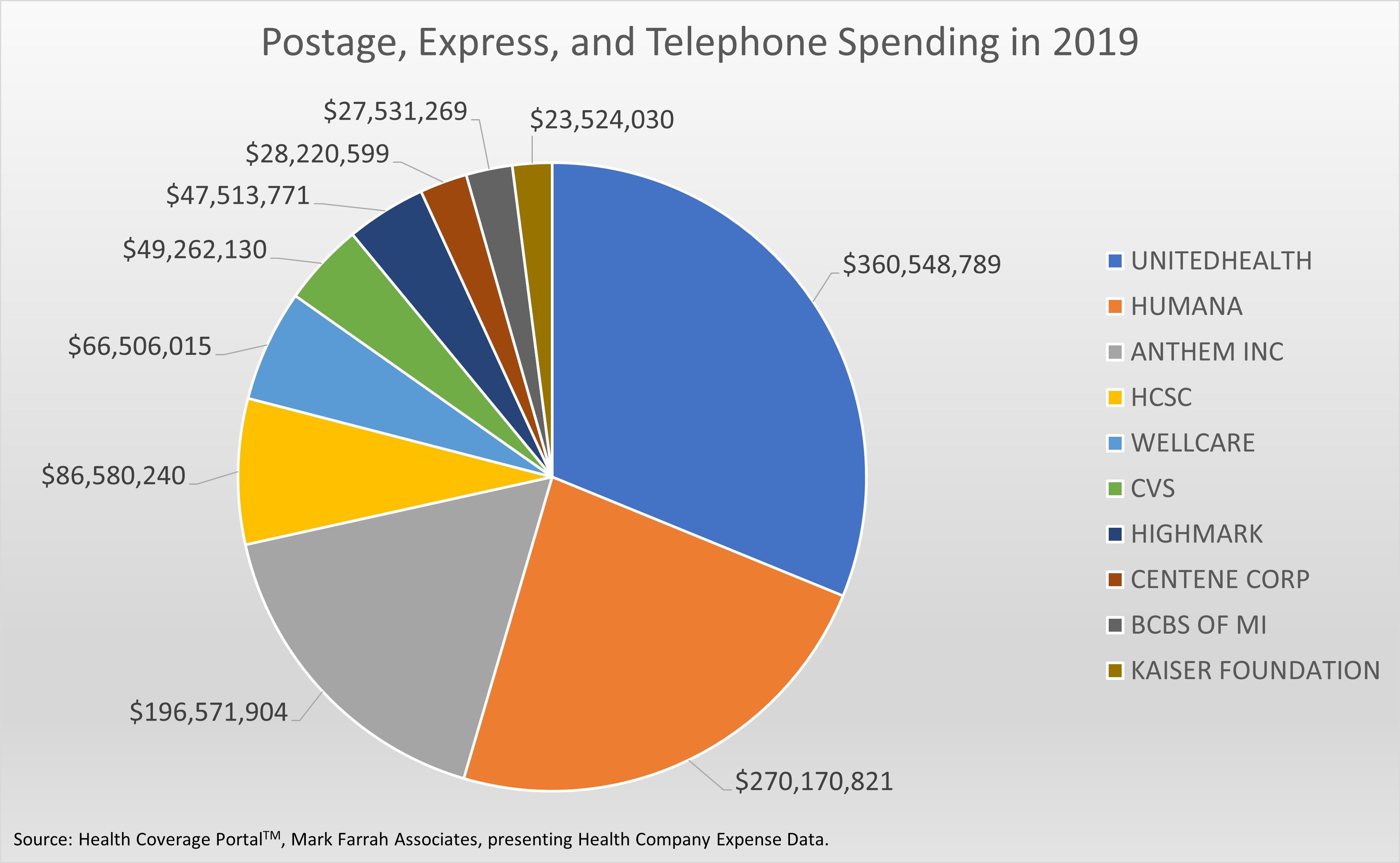 Enrollment metrics can be utilized in conjunction with this line-item expense to illustrate how those resources are being used on a per member basis. UnitedHealth, Humana, Anthem, and HCSC stand out in terms of total spending; however, that trend does not continue when evaluated in terms of spending per member.
Postage, Express, and Telephone Spending per Month

Parent
Total Members
$ per Member
UnitedHealth
13,578,516
$26.55
Humana
16,685,825
$16.19
Anthem
40,685,442
$4.83
HCSC
19,920,745
$4.35
Wellcare
8,281,324
$8.03
CVS
8,269,511
$5.96
Highmark
8,332,610
$5.70
Centene
6,747,620
$4.18
BCBSMI
7,181,590
$3.83
Kaiser
3,494,233
$6.73

Source: Health Coverage PortalTM, Mark Farrah Associates, presenting Health Company membership and expense data.
Although Anthem and HCSC had the third and fourth largest spending for postage, express, and telephone, they are more in line with the other parent companies on a per member basis, due to higher member counts. UnitedHealth and Humana dominated the field with $26.55 and $16.19 spent per member, respectively, well above the average of $8.64. The remaining companies measured below the median, with BCBS MI rounding out the bottom of the list at $3.83 per member.
The line-item spending incurred by the above companies may be attributed, in part, to the Medicare enrollment that the companies also reported. Companies with higher Medicare enrollment may be spending more on postage, express, and telephone in direct relation to their marketing efforts to seniors.
At the end of 2019, the biggest spender per member, UnitedHealth, reported 6,248,462 Medicare enrollees. Humana, the second biggest, reported 4,414,577 enrollees. These were the highest reported Medicare enrollments for the above companies in 2019. Medicare enrollment for the remaining eight companies ranged from approximately 108,000 (HCSC) to 2.35 million (CVS).
About the Data
The data used in this analysis brief was obtained from Mark Farrah Associates' Health Coverage Portal™ database and sourced from Health Insurance companies reporting through the NAIC (National Association of Insurance Commissioners) via the Annual Analysis of Expenses – Underwriting and Investment Exhibit: Part 3 (NAIC).
About Mark Farrah Associates (MFA)
Mark Farrah Associates (MFA) is a leading data aggregator and publisher providing health plan market data and analysis tools for the healthcare industry. Our product portfolio includes Health Coverage Portal™, County Health Coverage™, Medicare Business Online™, Medicare Benefits Analyzer™, 5500 Employer Health Plus™, and Health Plans USA™. For more information about these products, refer to the informational videos and brochures available under Our Products or call 724-338-4100.
Healthcare Business Strategy is a FREE monthly brief that presents analysis of important issues and developments affecting healthcare business today. If you would like to be added to our email distribution list, please submit your email address to the "Subscribe to MFA Briefs" section at the bottom of this page.