A Brief Analysis of Private Sector Health Insurance Business in the Dallas Metropolitan Area
October 28, 2021
The U.S. Department of Labor's Form 5500 Series data offers a wealth of information about employers' health and welfare benefits offered to their employees. Savvy industry analysts can use the 5500 data to support the sales and marketing efforts of health insurers by gaining an understanding of their competition's current relationships with employers. This brief presents an analysis of the top insurers and employers in the Dallas metropolitan statistical area (MSA). Health benefit insights were gleaned from Mark Farrah Associates' (MFA's) 5500 Employer Health Plus , a product designed to simplify the analysis of the 5500 series data.
Top Insurers and Total Premiums
Benefit information found within the 5500 Series filings includes insurer-reported figures such as insured counts, premiums, as well as some employer/sponsor and broker information. Form 5500 data can be utilized through an examination of insurance competitors at the city level. Dallas is one such MSA and home to several large insurers competing for a share of the ever-growing health insurance market.
While 5500 data is not representative of the full market, it still offers key insights into the insurance benefits offered by private employers. Focusing on total premiums earned through risk-based insurance (not self-funded), Kaiser held a significant lead at the beginning of the observed period in 2016, accounting for $509 million of all reported premiums. In 2017, however, after a significant decline in premiums earned from AT&T, Kaiser fell to second place. Kaiser was unable to regain its top position through 2018 and 2019, and finished just under UnitedHealth, as illustrated on the graph below.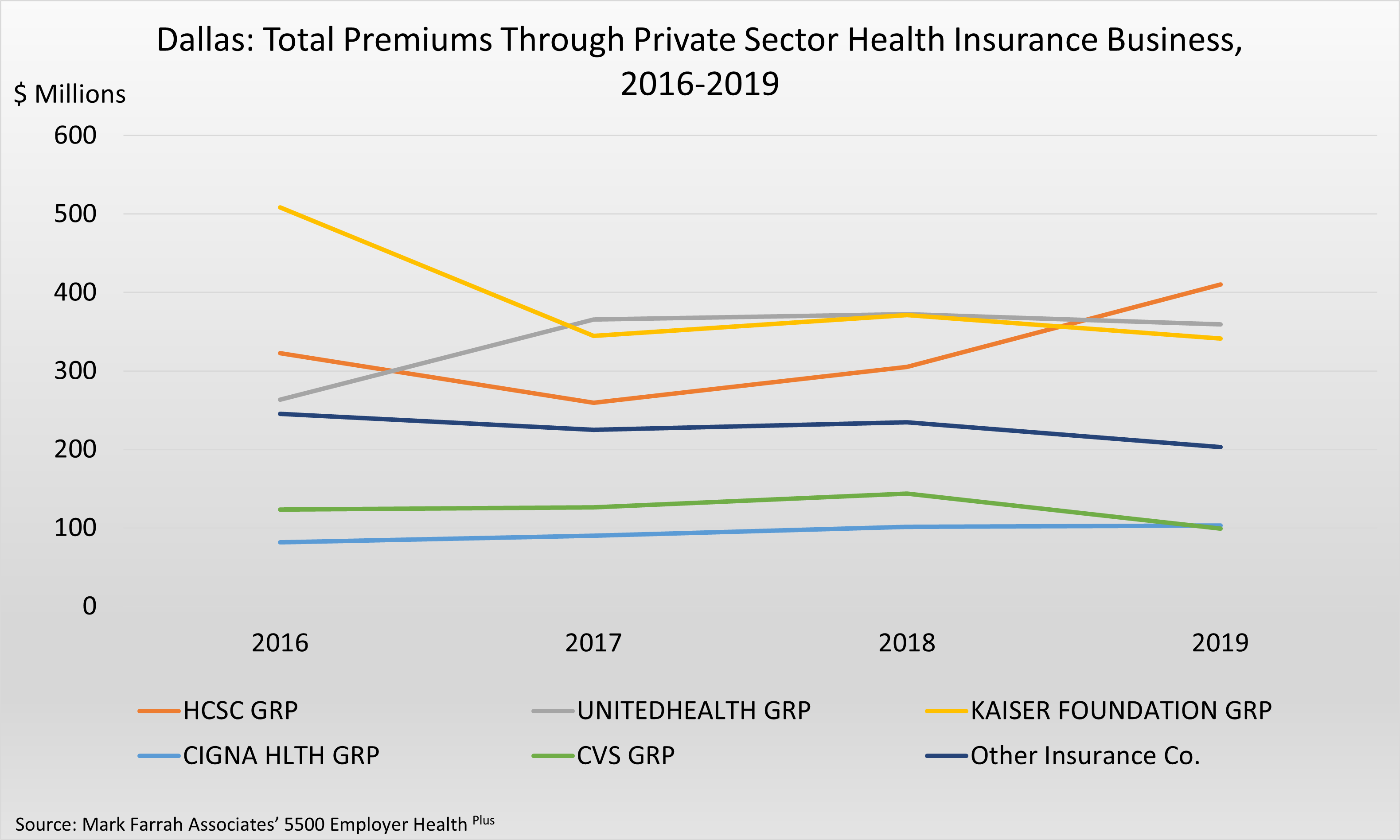 HCSC started 2016 beneath Kaiser and accounted for 21% of total premiums that year, compared to Kaiser's 33%. Like Kaiser, HCSC experienced a decrease in 2017, though it was less extreme and represented a loss of approximately $63 million. Despite this initial loss, HCSC was able to regain lost ground and exceeded its origins, leading to it being the dominant insurer in 2019, representing 27% of total premiums.
Conversely, as Kaiser and HCSC decreased in total premiums going into 2017, UnitedHealth surged in total premiums, experiencing a 39% increase of almost $102 million in premiums, including $88 million from AT&T. Following this expansion, UnitedHealth's total premiums saw a mere $7 million growth in 2018 and fell slightly by $13 million in 2019. UnitedHealth ended 2019 in between HCSC and Kaiser, representing 24% of total premiums that year, compared to HCSC's 27% and Kaiser's 23%.
CVS, despite losing almost $45 million in premiums in 2019 after years of relative growth, maintained a stable market position across the entire observed time frame, accounting for 8% of total premiums in 2016, 9% in 2017, 9% in 2018, and 7% in 2019. As CVS attempted to hold its stead, Cigna did not experience the volatility of the other insurers. Cigna was the only insurer to grow in total premiums in all three years, growing by $8 million (10% growth) in 2017, $11 million (13%) in 2018, and just under $2 million (2%) in 2019.
Collectively, the market dropped by $134 million (9%) in reported premiums in between 2016 & 2017. Reported premiums rebounded in 2018, growing by approximately $117 million (8%). 2019 only saw a small loss of $12 million, or about 1%.
Top Employers in 2019
In addition to the top insurers and premiums discussed above, 5500 reporting also focuses on specific employers and their contributions to an insurer's performance. As illustrated in the charts below, 5500 data can be used to examine the top employers (referred to as customers in this context) for any given year. The top insurers, Cigna, CVS, HCSC, Kaiser, UnitedHealth, and their respective top customers, paint a unique picture for private sector health insurance.
Cigna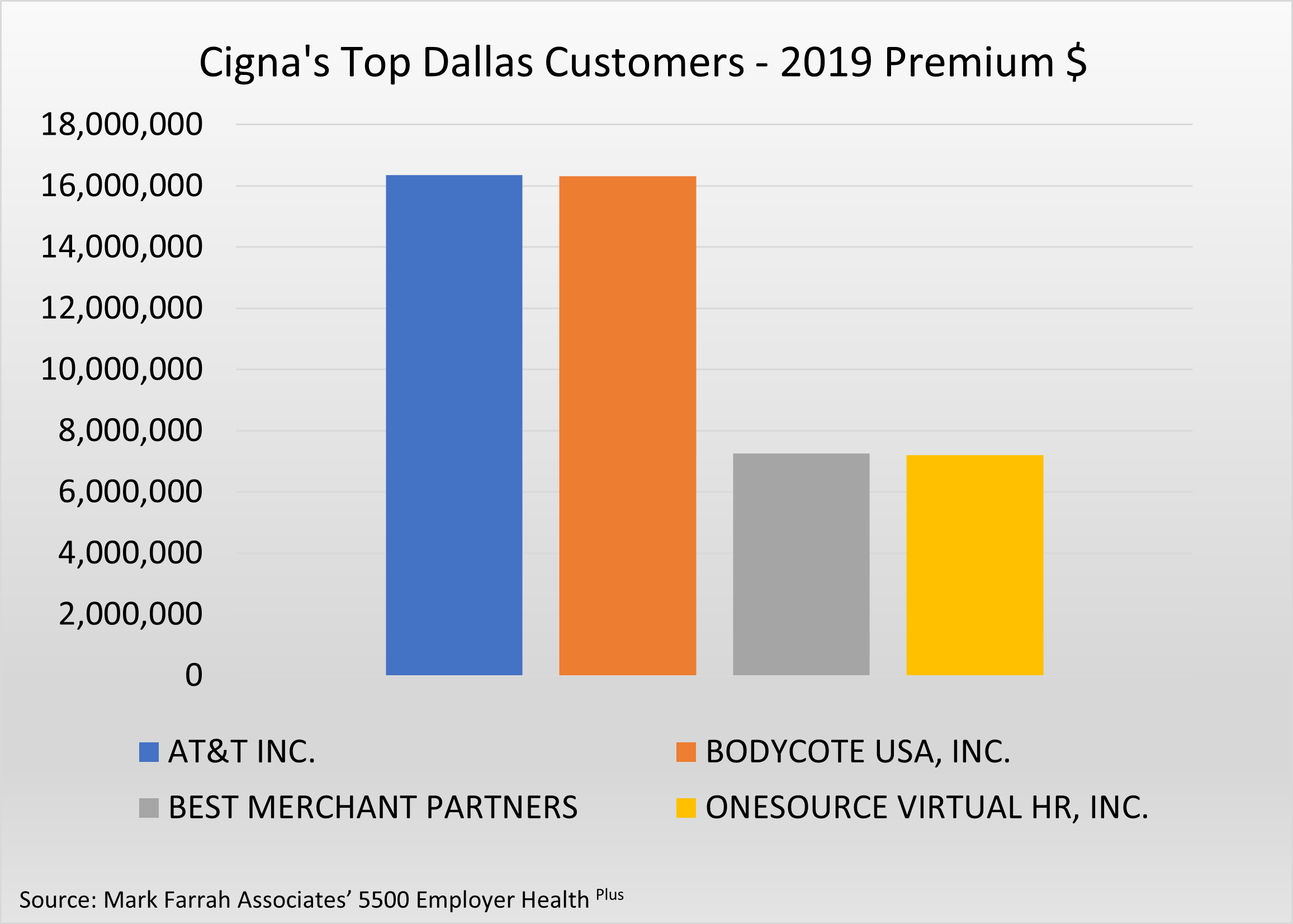 AT&T and Bodycote USA are long term customers of Cigna, reporting consistent premiums since at least 2016.
2017 was the first year of reporting for Best Merchant Partners.
Onesource Virtual HR, Inc. was a new customer for Cigna in 2019.
CVS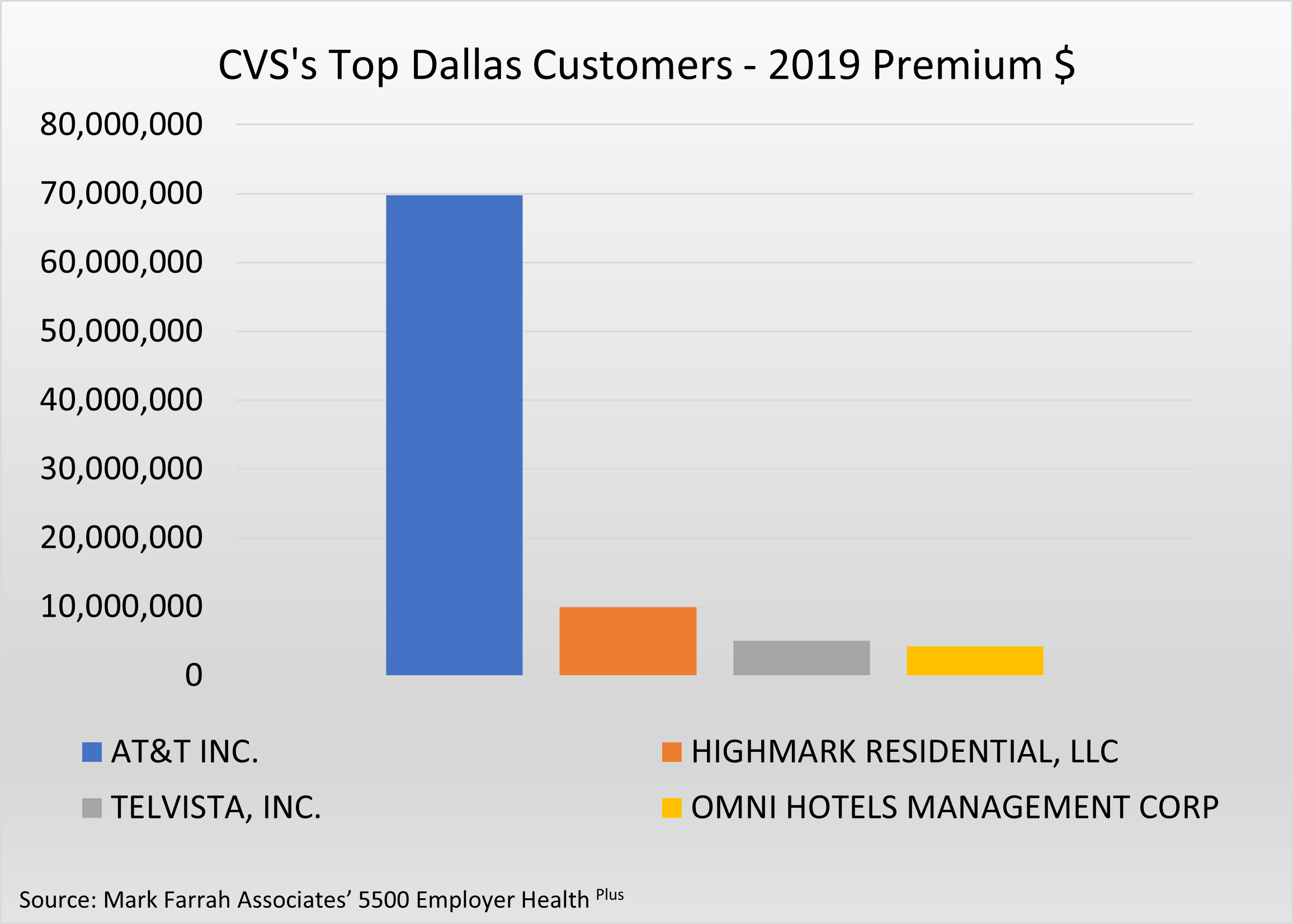 AT&T is headquartered in Dallas, Texas, and is the top customer for Cigna, CVS, Kaiser, and UnitedHealth; it is the third largest customer for HCSC.
Highmark Residential began reporting premiums paid to CVS in 2018.
Telvista and Omni Hotels Management Corp have been reporting since at least 2016.
HCSC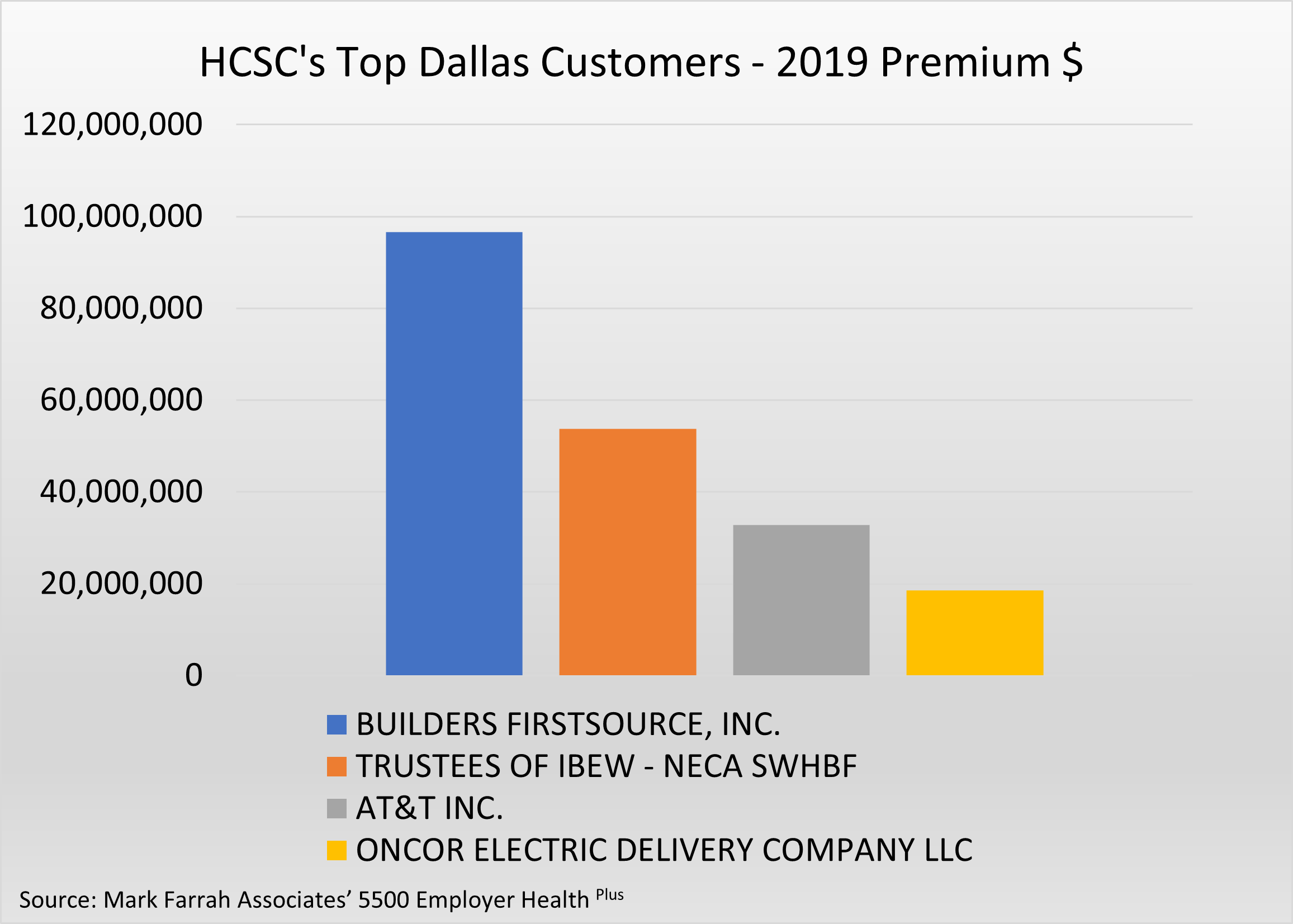 Builders Firstsource reported premiums for the first time in 2019.
Trustees of IBEW - NECO SWHBF has been reporting since at least 2016.
Oncor Electric first started reporting in 2018.
Kaiser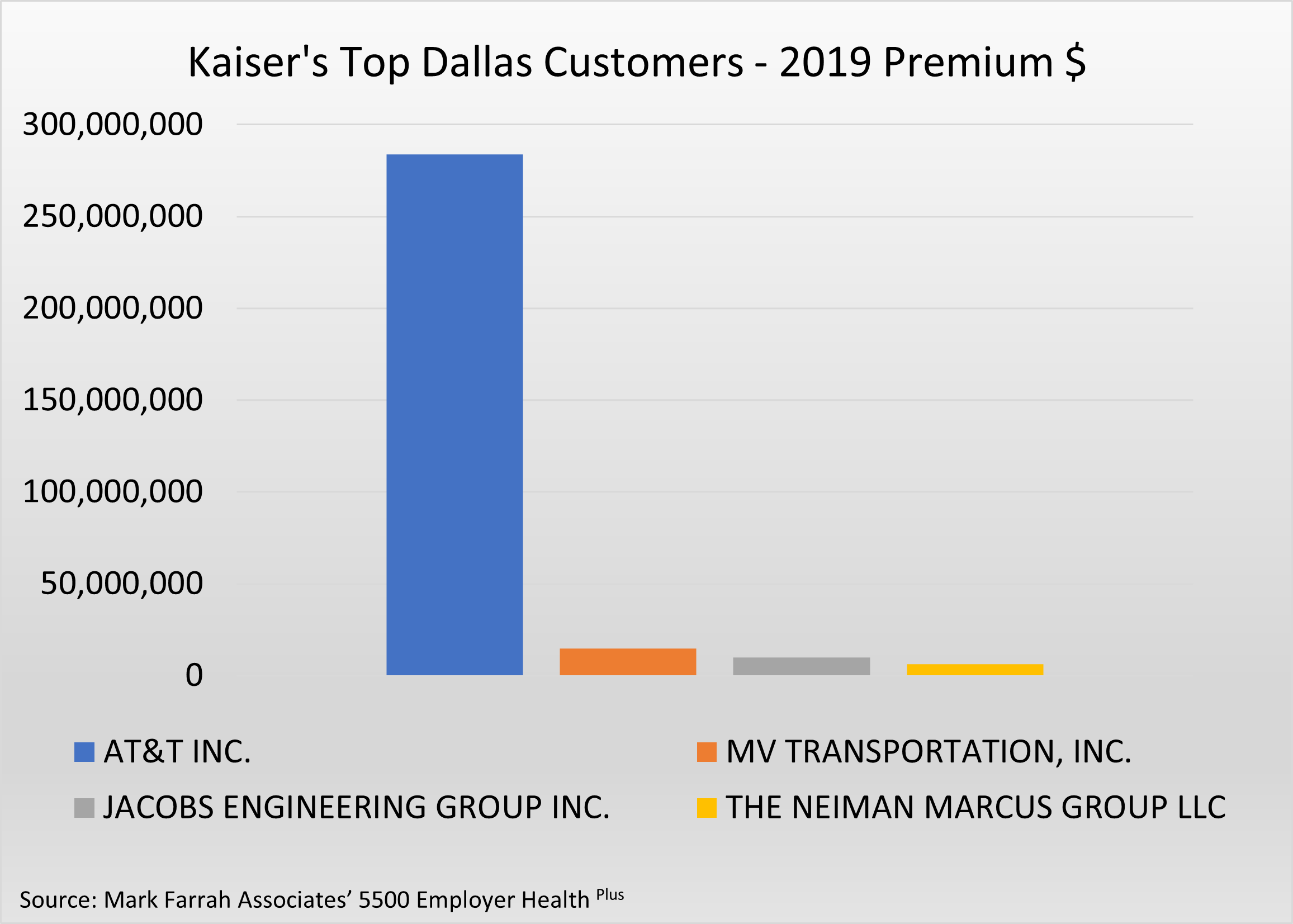 MV Transportation, Jacobs Engineering, and the Neiman Marcus Group have consistently been the top three customers after AT&T since 2016.
For CVS, Kaiser, and UnitedHealth, AT&T is the overwhelmingly dominant customer, reporting more in premiums then the others combined.
UnitedHealth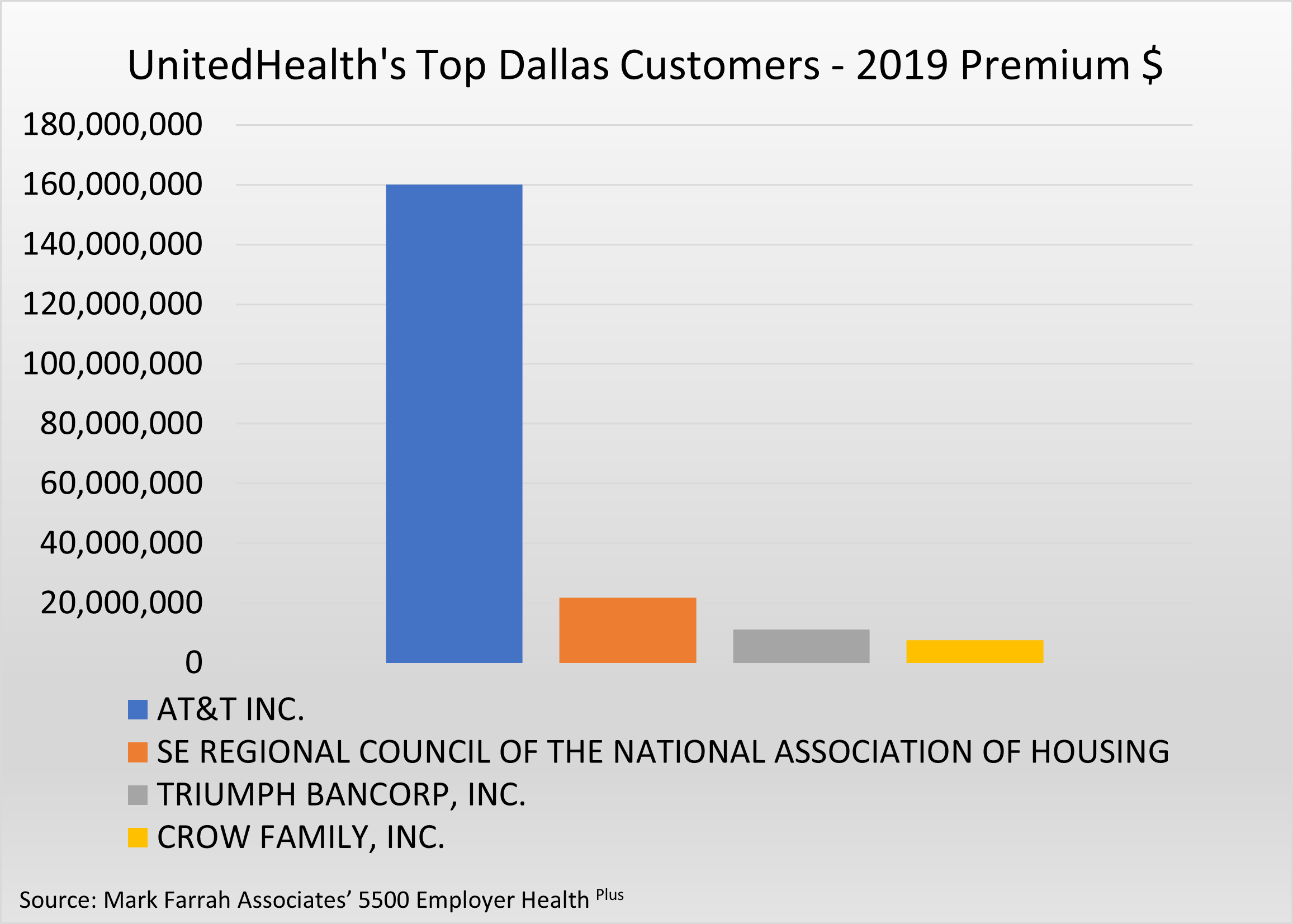 Triumph Bancorp started reporting premiums to UnitedHealth in 2018.
Crow Family and SE Regional Council have been reporting since at least 2016, although SE Regional Council reported an average of $17,600 yearly for 2016-2018, jumping to nearly $22 million in 2019.
Form 5500 reporting can shed light on the competitive insurance marketplace for any given city. With proper examination, this data can be expanded to any state or region, providing more depth and opportunities to explore the impact private sector health insurance business can have on the industry. Mark Farrah Associates will continue to analyze and report on important health insurance related topics.
About 5500 Employer Health Plus
The data used in this analysis brief was obtained from Mark Farrah Associates' 5500 Employer Health Plus. This new tool has been designed to simplify the analysis of employer health & welfare benefits including medical, dental, vision, disability, and other benefits. MFA's 5500 Employer Health Plus uniquely focuses on health & ancillary benefits purchased by private sector employers and the relationships employers have with contracted insurers, administrators, and brokers. The user interface allows for both detailed and summary level data retrieval. Data sources includes Form 5500 filings and related schedules for plans that have the indication of providing health & welfare benefits.
About Mark Farrah Associates (MFA)
Mark Farrah Associates (MFA) is a leading data aggregator and publisher providing health plan market data and analysis tools for the healthcare industry. Our product portfolio includes Health Coverage Portal™, County Health Coverage™, 5500 Employer Health Plus, Medicare Business Online™, Medicare Benefits Analyzer™, and Health Plans USA™. For more information about these products, refer to the informational videos and brochures available under the Our Products section of the website or call 724-338-4100.
Healthcare Business Strategy is a FREE monthly brief that presents analysis of important issues and developments affecting healthcare business today. If you would like to be added to our email distribution list, please submit your email to the "Subscribe to MFA Briefs" section at the bottom of this page.