Medicaid Enrollment Trends and Market Insights
November 19, 2018
Medicaid continues to be the largest health program in the United States as measured by enrollment. Over the years, the Affordable Care Act (ACA) and Medicaid expansion have proven to help reduce the number of uninsured Americans and have also significantly increased member participation in the Medicaid program; however, second-quarter enrollment trends have indicated year-over-year declines in Medicaid membership. According to the Centers for Medicare & Medicaid Services (CMS) Medicaid & CHIP Enrollment Reports, as of June 2018, total Medicaid and Children's Health Insurance Program (CHIP) enrollment was 73.8 million, an approximate 500,000 decrease in covered lives from 74.3 million in June 2017. Despite a decrease in membership, Medicaid has seen increases in payment rates for health providers and benefits to members, mostly due to a bustling economy. This brief provides an overview of the current Medicaid market with insights about top companies competing in this segment.
Medicaid Expansion
Medicaid expansion has played a significant role in Medicaid eligibility since ACA implementation in 2014. The expansion of Medicaid programs under ACA resulted in strong enrollment growth for health plans and service providers industrywide. More and more states are considering expanding their Medicaid programs. As of September 2018, 34 states including the District of Columbia implemented ACA Medicaid expansion, with Maine and Virginia expected to implement in 2019. As of November 6, 2018, expansion votes were cast and approved in Idaho, Utah and Nebraska. These states will join Maine and Virginia to expand Medicaid and bring the future state total for expanded Medicaid to thirty-nine.
Source: Kaiser Family Foundation 50-state survey of Medicaid officials conducted by Health Management Associates HMA, November 2018
Medicaid during a Strong Economy
In 2018, Medicaid saw a slight dip in membership. According to Kaiser Family Foundation (KFF), this change has resulted from a couple of different factors. First, as of September 2018, a strong economy has led to a record low in unemployment of 3.7%; the lowest since 1969. With an increase in the work force, this has enabled people to shift from Medicaid coverage to alternative health care plans. Second, Medicaid has seen a decrease in membership due to states implementing restrictive policies for Medicaid qualification. For example, in Arkansas, a work requirement provision was put in place that resulted in 8,500 individuals becoming ineligible since June 2018. Similar restrictive policies have been enacted and proposed elsewhere.
In addition to a decrease in Medicaid enrollment, many states have seen an increase in Medicaid spending, partially due to continued increasing prices of drugs and specialty services offered. Additionally, in 2018, many states for the first time became responsible to pay a portion of expansion costs. To fund these new costs to the states, many states have implemented new taxes or increased current taxes accordingly, along with allotted general fund dollars.
Managed Care Organizations
Managed Care Organizations (MCOs) are the primary delivery system for Medicaid in the U.S. Medicaid enrollment in MCOs continues to rise due in part to ACA Medicaid expansion as more states move beneficiaries to managed-care plans. According to Health Management Associates' (HMA) and the Kaiser Family Foundation's (KFF) annual 50-state survey report, as of July 1, 2018, thirty-three states with comprehensive risk-based MCOs reported 75 percent or more of their Medicaid beneficiaries were enrolled in MCOs.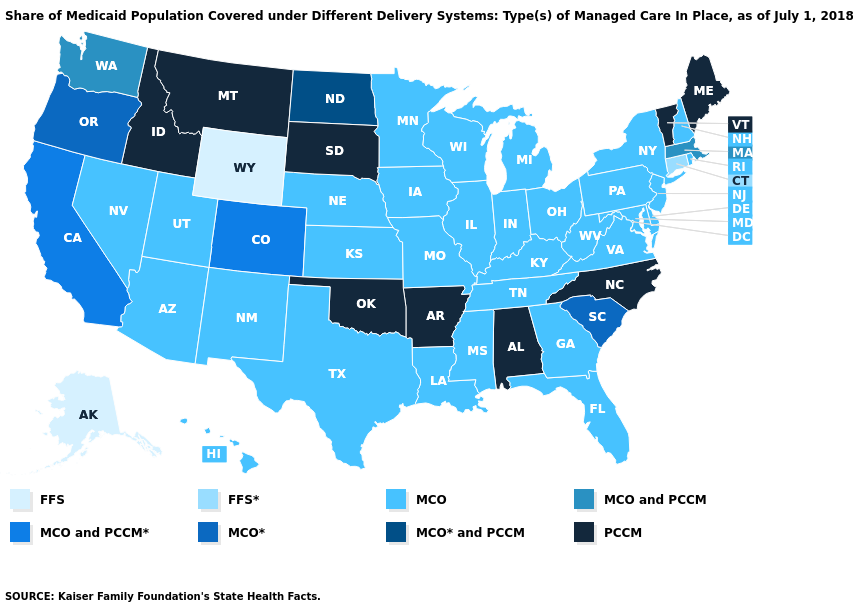 Medicaid Managed Care Enrollment and Market Share
The best available sources of Medicaid managed care enrollment by company are the statutory financial statements filed with state regulators, the National Association of Insurance Commissioners (NAIC) and the California Department of Managed Health Care CA DMHC. Though not fully representative of all state Medicaid programs, this data provides a useful means of assessing Medicaid market share and competition. It is important to keep in mind an additional 24.9 million Medicaid members are enrolled by companies or through funding arrangements not included in statutory financial data used for this assessment. This data represents approximately 66% of all Medicaid beneficiaries enrolled.
Leading Medicaid Managed Care Companies: Membership Trend

| | | | | |
| --- | --- | --- | --- | --- |
| Company | 2Q17 | Market Share | 2Q18 | Market Share |
| Centene | 6,102,297 | 12% | 6,127,457 | 12% |
| Anthem | 5,156,737 | 10% | 5,046,593 | 10% |
| UnitedHealth | 5,118,552 | 10% | 5,381,455 | 11% |
| Molina | 3,374,077 | 7% | 3,348,100 | 7% |
| WellCare | 2,375,666 | 5% | 2,380,700 | 5% |
| All Others | 27,345,384 | 56% | 27,140,374 | 55% |
| Total | 49,472,713 | 100% | 49,424,679 | 100% |
Source: Mark Farrah Associates' Health Coverage Portal/Statutory Financial Statements
As of second quarter 2018, total managed Medicaid membership reported through statutory financial statements was over 49.4 million, according to Mark Farrah Associates' (MFA) latest Medicaid enrollment statistics from the Health Coverage Portal™. Out of the top five managed care companies, Anthem and Molina saw a year-over-year decrease in enrollment, whereas Centene, UnitedHealth and Wellcare experienced an increase. Total year-over-year managed Medicaid membership marginally decreased by approximately 48,000; a distinct difference from the 1.38 million member increase between 2Q16 and 2Q17.
Centene, the company with the largest book of Medicaid managed care business, commanding 12 percent of the market, had a slight increase in membership, growing to 6.13 million members as of 2Q18. Among the top five managed care plans, UnitedHealth gained the most members, year over year, with growth of almost 263,000, a 5.1% increase over 2Q17. Anthem's membership dipped by 2.1% or 110,000. Overall, these top five Medicaid companies control 45% of the total Medicaid managed care market.
Conclusion
With each additional year that's passed under the ACA and with more states continuing to choose to expand their programs, Medicaid appears to be a permanent fixture in the future of health care in the United States. Despite a slight drop in membership due to a rising economy and states refining requirements, Medicaid continues to expand in overall state participation and increased funding. Mark Farrah Associates will continue to monitor the Medicaid market and its changes, along with all other aspects of the health care industry that impact the market and health insurance carriers.
About Mark Farrah Associates (MFA)
Mark Farrah Associates (MFA) is a leading data aggregator and publisher providing health plan market data and analysis tools for the healthcare industry. Our product portfolio includes Health Coverage Portal™, County Health Coverage™, Medicare Business Online™, Medicare Benefits Analyzer™, and Health Plans USA™. For more information about these products, refer to the informational videos and brochures available under the Our Products section of the website or call 724-338-4100.
Healthcare Business Strategy is a free monthly brief that presents analysis of important issues and developments affecting healthcare business today. If you would like to be added to our email distribution list, please submit your email to the "Subscribe to MFA Briefs" section in the grey area at the bottom of the page.