Market Share of Top Individual Health Insurers Increased 20% Over Past 5 Years
June 11, 2020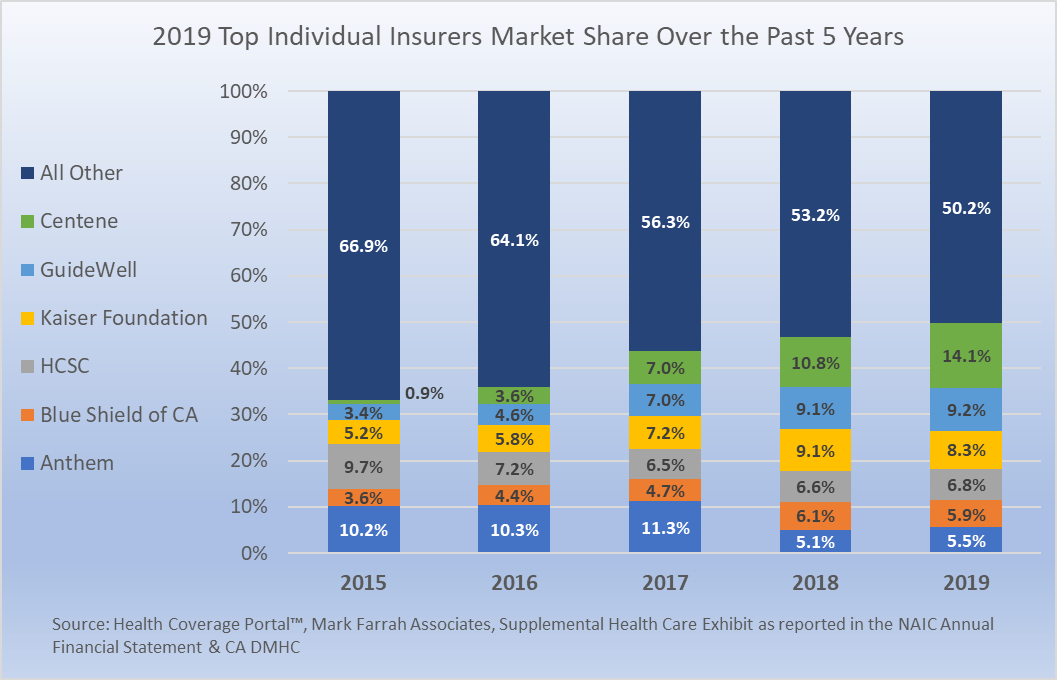 The leading individual health insurers by market share increased their percentage from about 30% overall market share in 2015 to just over 50% in 2019. Individual enrollment declined from 16.7 million to 12.4 million enrollees between 2015 and 2019. The top individual insurers gained 657k, however, all other insurers lost 4.95m enrollees during this 5-year time period.
Current individual market leader, Centene gained the most enrollees during this 5-year frame, increasing over 1.6 million.
GuideWell had the second largest gain from 2015 to 2019, increasing almost 567k enrollees.
Anthem lost the most enrollees with a decrease of just over 1 million.
Second to Anthem, HCSC lost almost 779k.
Falling just out of the top plans in 2019, UnitedHealth had almost 1.14 million enrollees in 2015 and dropped to just about 261k in 2019; a loss of nearly 875k.

2019 Top Individual Insurers
Over the Past 5 Years
Parent
2015
2016
2017
2018
2019
Centene
144,674
581,482
995,268
1,404,809
1,750,192
Guidewell
574,848
749,036
988,211
1,175,758
1,141,595
Kaiser Foundation
864,737
938,748
1,018,285
1,184,104
1,031,502
HCSC
1,625,406
1,162,797
915,598
850,546
846,928
Blue Shield of CA
609,531
707,821
665,549
783,811
726,407
Anthem
1,707,145
1,666,380
1,590,863
658,330
686,268
Subtotal
5,526,341
5,806,264
6,173,774
6,057,358
6,182,892
All Others
11,180,772
10,363,164
7,947,205
6,893,786
6,228,798
Total
16,707,113
16,169,428
14,120,979
12,951,144
12,411,690

Source: Health Coverage Portal™, Mark Farrah Associates, Supplemental Health Care Exhibit as reported in the NAIC Annual Financial Statement & CA DMHC
About Mark Farrah Associates (MFA)
Mark Farrah Associates (MFA) is a leading data aggregator and publisher providing health plan market data and analysis tools for the healthcare industry. Our product portfolio includes Health Coverage Portal™, County Health Coverage™, Medicare Business Online™, Medicare Benefits Analyzer™, Health Plans USA™ and 5500 Employer Health plus. For more information about these products, refer to the informational videos and brochures available under the Our Products section of the website or call 724-338-4100.
Healthcare Business Strategy is a FREE monthly brief that presents analysis of important issues and developments affecting healthcare business today. If you would like to be added to our email distribution list, please submit your email to the "Subscribe to MFA Briefs" section at the bottom of this page.