Medicaid Enrollment Increases to 82.8 million, up over 5 million From Year-End 2020
January 5, 2022
Medicaid enrollment continued to increase through the third quarter of 2021. Total Medicaid and Children's Health Insurance Program (CHIP) enrollment was 82.8 million, as of May 2021, according to the Centers for Medicare & Medicaid Services (CMS) Monthly Medicaid & CHIP Application, Eligibility Determination, and Enrollment Reports & Data. This represents an increase of almost five million from December of 2020. In this Business Strategy Report, utilizing information from its Health Coverage Portal™, Mark Farrah Associates (MFA) examines how carriers in the Managed Medicaid segment have fared between the third quarter of 2020 (3Q20) to the third quarter of 2021 (3Q21). These carriers covered 70.3 million people, or roughly 85% of total Medicaid and CHIP beneficiaries.
In an August of 2021 Business Strategy report, MFA reported Medicaid enrollment was up nearly nine million people, from December of 2019 to December of 2020. These ongoing increases are due in part to the continuing impact of the COVID-19 pandemic. Due to the extension of the federal COVID-19 public health emergency (PHE), States are required to keep people enrolled in Medicaid as a condition of receiving a temporary increase in the federal share of Medicaid costs. When the PHE ends — currently slated for January of 2022 — the enhanced federal funding will end and states will, at some point, resume administering renewals for Medicaid eligibility, in a process known as redetermination. Redetermination, typically an annual process, allows States to verify that people who are receiving Medicaid and CHIP benefits still qualify for those benefits.
Market Share
Managed care companies that participate in Managed Medicaid markets are seeing a windfall of enrollment due to the unprecedented growth in this segment. CVS reported the largest percentage increase in membership between 3Q20 and 3Q21, at 27.1%, with a gain of nearly 500,000 managed Medicaid members. The table below shows that the top 10 companies, in September of 2021, all increased Medicaid enrollment from the similar period in 2020.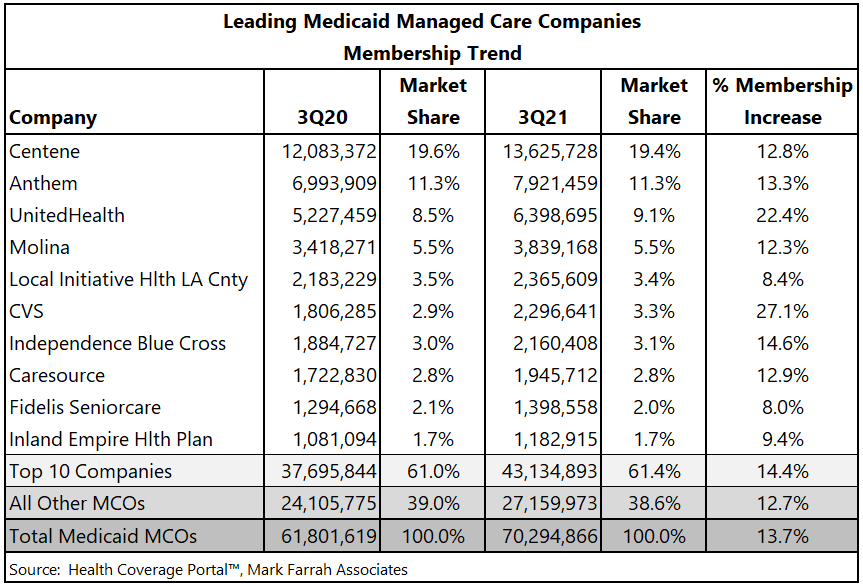 About Mark Farrah Associates (MFA)
Mark Farrah Associates (MFA) is a leading data aggregator and publisher providing health plan market data and analysis tools for the healthcare industry. Our product portfolio includes Health Coverage Portal™, County Health Coverage™, Medicare Business Online™, Medicare Benefits Analyzer™, 5500 Employer Health PLUS, and Health Plans USA™. For more information about these products, refer to the informational videos and brochures available under the Our Products section of the website or call 724-338-4100.
Healthcare Business Strategy is a FREE monthly brief that presents analysis of important issues and developments affecting healthcare business today. If you would like to be added to our email distribution list, please submit your email address to the "Subscribe to MFA Briefs" section at the bottom of this page.