Continuous Improvement for Medicare Advantage Part C Star Ratings
March 10, 2022
The Centers for Medicare & Medicaid Services (CMS) recently released the "Calendar Year (CY) 2023 Advance Notice of Methodological Changes for Medicare Advantage (MA) Capitation Rates and Part C and Part D Payment Policies" (the Advance Notice). In the 2023 Advance Notice, CMS announced it is soliciting input on future Star Rating measures and concepts as it continues to advance health equity and enhance the Star Ratings over time. The MA Star Ratings measure the quality of plans and reflect the experiences of beneficiaries in these plans, assist beneficiaries in finding the best plan for their needs, and determine MA Quality Bonus Payments. Over time, Mark Farrah Associates (MFA) has noted continuous improvement in the Star Ratings of MA plans, with most Medicare beneficiaries now in contracts with 4 or more-stars. Medicare Benefits Analyzer™, a Mark Farrah Associates' database, helps simplify analysis of the Medicare.gov data, including details on the Star Ratings metrics for companies competing in this segment. This brief presents a snapshot of the 2021 and 2022 MA Star Ratings, with enrollment and contracts by Star Ratings.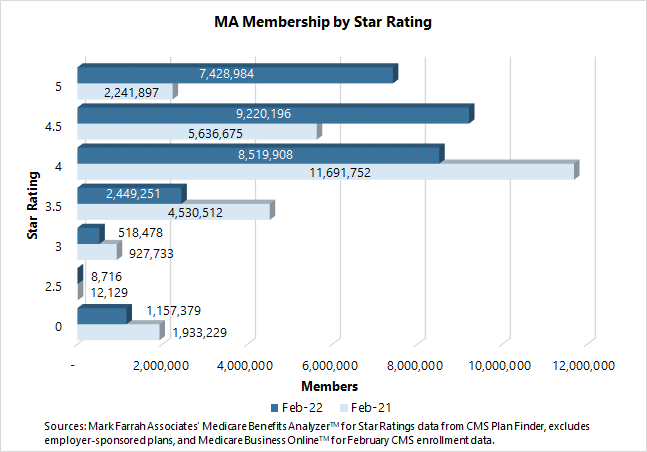 As of February 1, 2022, more than 25.2 million people, 86% of the 29.3 million non-group MA enrollees, were enrolled in a plan with a 4-Star rating or better. This is up significantly from the 19.6 million people, 73% of the 27.0 million non-group MA enrollees, as of February 1, 2021. Perhaps more importantly, the number of people in 5-Star plans, during the same period, increased to 7.4 million, up from 2.2 million year-over-year. This appears to be a result of a significant increase in the number of contracts and parent companies granted the 5-Star Rating in 2022.
Medicare Star Ratings
MA plans with prescription drug coverage (MA-PD) contracts are rated on up to 38 unique quality and performance measures; MA-only contracts (without prescription drug coverage) are rated on up to 28 measures; and stand-alone Prescription Drug Plan (PDP) contracts are rated on up to 12 measures. The contract (and plans within the contract) are rated on a 1 to 5-star scale, with 1 star for poor performance and 5 stars for excellent performance.
Based on an analysis of CMS Star Ratings information in Medicare Benefits Analyzer, a total of 787 MA contracts, made up of 5,430 distinct Medicare Advantage (MA) plan offerings, were in the market lineup for 2022. This includes MA-only, MA-PD plans, Medicare/Medicaid plans (MMPs), and Special Needs Plans (SNPs) and excludes PDP contracts.
A total of 74 MA contracts received a 5-star rating in 2022, an increase from the 21 contracts that received this distinguished rating in 2021. In 2022, over 9.4% of all MA contracts were rated as 5-Stars, up from 2.8% of all MA contracts in 2021.
In 2022, 41 separate parent companies received a 5-Star rating. UnitedHealth Group has the most contracts, 13 received this distinction, followed by Kaiser Foundation Health Plan Group with 7 contracts. In 2021, only 12 parent companies had 5-Star contracts, with Kaiser Foundation Health Plan Group having 7 top-rated contracts, followed by UnitedHealth Group, with 4 contracts.
The number of contracts not rated (zero stars) dropped from 349 to 316, between 2021 to 2022. CMS requires plans to be in the market for three years and have a certain amount of data to be rated.
For 2022, 80 MA contracts were newly rated, ten received a 4.5-star rating or better.
Nine contracts were withdrawn from the market in 2022, with 4 of them having a 4-star rating.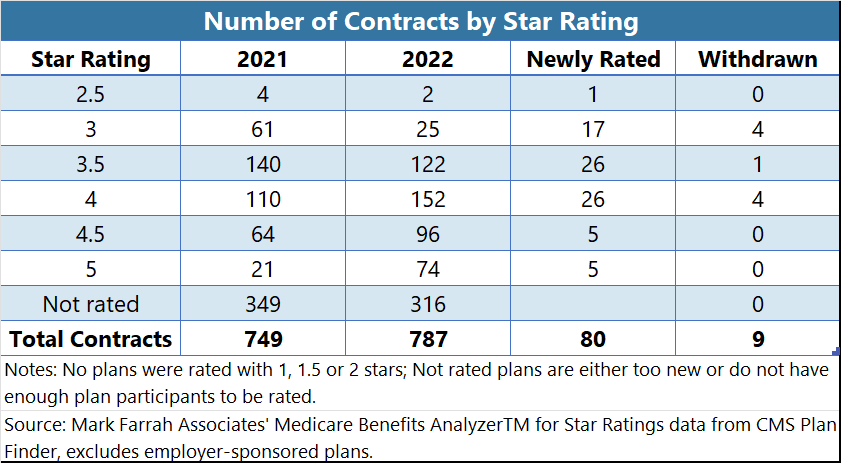 About Medicare Benefits Analyzer
Medicare Benefits Analyzer™ is a time-saving database for easy comparative analysis of Medicare premiums, co-pays and benefits. Benefits and Star Quality Ratings data is collected and organized from the Medicare.gov website and is updated within days the new benefits data is posted by CMS, usually during the first and second weeks of October, with periodic data refreshes. Interactive web tables present Medicare Advantage and PDP benefits, premiums, co-pays, Rx drug tiers & cost estimates by Plan, State & County; Star Quality Ratings data for measuring relative quality of MA & Part D plans; Drug tier costs by state presents standard and preferred cost-sharing by drug tier, purchase type and supply for all MA & Part D plans; Plan Finder profiles by state and plan with screen-shots of benefit details for easy look-up and reference; Medicare Advantage & PDP enrollment figures per plan and current Summary Star Ratings; and User-friendly web interface with easy-to-navigate tables and download to Excel; Medicare Benefits Analyzer™ subscriptions include access to Medicare Business Online™ for the latest enrollment data.
About Mark Farrah Associates (MFA)
Mark Farrah Associates (MFA) is a leading data aggregator and publisher providing health plan market data and analysis tools for the healthcare industry. Our product portfolio includes Health Coverage Portal™, County Health Coverage™, Medicare Business Online™, Medicare Benefits Analyzer™, Health Plans USA™ and 5500 Employer Health plus. For more information about these products, refer to the informational videos and brochures available under the Our Products section of the website or call 724-338-4100.
Healthcare Business Strategy is a FREE monthly brief that presents analysis of important issues and developments affecting healthcare business today. If you would like to be added to our email distribution list, please submit your email to the "Subscribe to MFA Briefs" section at the bottom of this page.