An Analysis of Private Sector Health Insurance Business in the Miami, Florida Area
January 18, 2022
The U.S. Department of Labor's Form 5500 Series data offers a wealth of information about employers' health and welfare benefits that are offered to their employees. Unlike most benefit information, which is sourced from health plans and/or insurance regulatory agencies, Form 5500's offer a look at this material from the employer's perspective. One way industry analysts can use the 5500 data is to support sales and marketing efforts by gaining an understanding of their competition's current relationships with employers. Benefit information found within the 5500 Series filings includes employer-reported figures such as insured counts and reported premiums, as well as sponsor and broker information. This brief presents an analysis of the top insurers and employers in the Miami area; insights were gleaned from Mark Farrah Associates' (MFA's) 5500 Employer Health Plus data.
Top Insurers and Total Premiums
Miami is home to several large employers, attracting both national and local insurers competing for a share of the expanding health insurance industry. While 5500 data is not representative of the full insurance market, for instance government sponsored programs are not required to file Form 5500s, it still offers key insights into the insurance benefits offered by private employers. MFA's 5500 Employer Health Plus simplifies access to data points at a city, state, and national level, as well as by industry and funding types.
Focusing attention on total health and health-related premiums earned through risk-based insurance (not self-funded) in Miami, it is apparent that all the leading national carriers are competing in the area. UnitedHealth maintained its position as the dominant insurer in Miami between 2016 to 2019, the observed periods for this analysis; but it has been gradually losing premium-based market share since 2017. Beginning in 2016, UnitedHealth accounted for nearly 42% of all reported health-related premiums, with employers reporting they paid $1.3 billion in premiums to the company. In 2017, 5500 data indicated UnitedHealth had its largest annual increase in premiums across the observed period, with a gain of $198 million, or 15.6%. With nearly $1.5 billion in 2017 premiums, UnitedHealth's share grew to 44% of the market. While UnitedHealth's premiums continued to grow in 2018 and 2019, by 6.3% and 4.7%, respectively, its share of premiums declined once again to 42%, by the end of 2019. Employers' reported premiums paid to UnitedHealth, as well as the other top insurers in the Miami area, are illustrated in the graph below.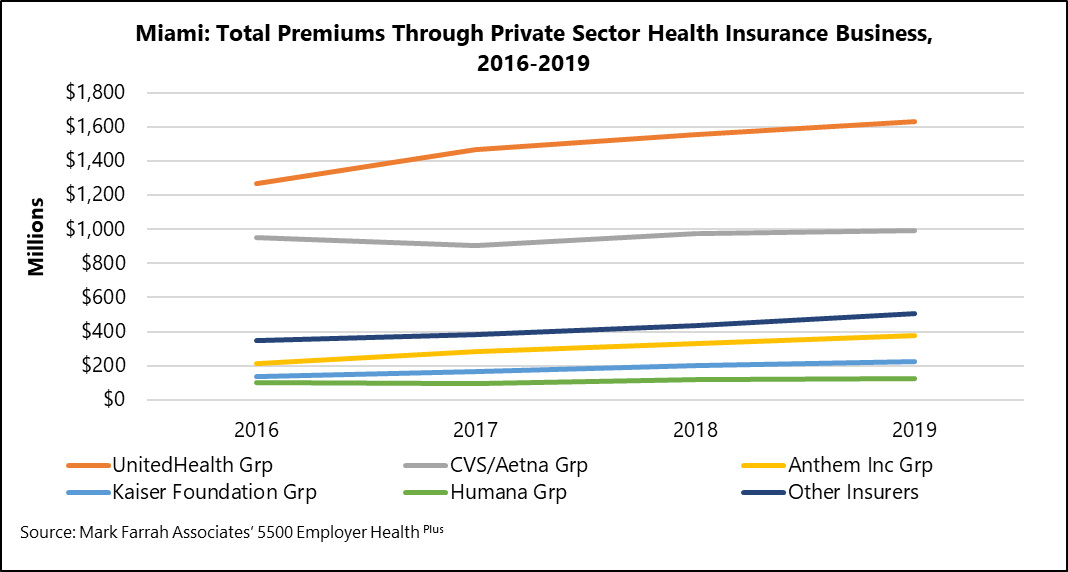 As shown above, most top insurers reported annual increases in total premiums throughout the time frame. Only CVS and Humana experienced declines in total premiums during the observed periods. CVS dropped by 4.9% in 2017, or about $46 million. In the same year, Humana lost 2.5%, accounting for about $2.5 million in premiums. Despite this initial drop, CVS's premiums increased in 2018 by 8.0% and again in 2019 by a modest 2.0%. Likewise, Humana experienced premium gains in 2018 and 2019. Reported data indicates both Anthem and Kaiser increased total premiums every year between 2016 and 2019. Other insurance companies, including Cigna and Florida Blue, the local Blue Cross and Blue Shield affiliate, also had market share gains. Overall, premiums for health-related business in the Miami market, reported through the Form 5500 data, indicated consistent growth across all years from $3.0 billion in 2016 to $3.9 billion in 2019, with premium based market share shifting slightly from the top insurers to other carriers in the market.
Top Employers in 2019
In addition to analyses of insurers and premiums, 5500 data also allows analysts to concentrate on specific employers and their influence on a market or a specific insurer's performance. As illustrated in the table and graph below, 5500 data can be used to examine the top employers (referred to as customers in this context) for any given year. Examining the Miami market closer, it became obvious that one national employer, ADP TotalSource, is driving the performance of the top insurance carriers, and influencing and masking the full industry picture locally.
ADP TotalSource
ADP TotalSource (ADP), which is headquartered in the Miami area and has over 4.5 million participants in its health benefits nationwide, consistently accounted for more in total reported premiums than any other company in the area, by significant margins. In fact, 87% of the Miami area's 2019 health related premiums, as reported in the 5500 filings, are attributable to ADP. The table below shows ADP's premiums for each of the top five insurers in Miami from 2016 to 2019.

ADP is a professional employer organization (PEO). As a PEO, ADP enters a joint-employment relationship with an employer by leasing employees to the employer; this allows ADP to share and manage many employee-related responsibilities and liabilities, including health insurance benefits. As shown in the above table, ADP's growth across all insurers from 2016 through 2019 is significant. UnitedHealth's total premium gains in the Miami area can all be attributed to ADP and suggests it experienced premium losses from other businesses in the area.
Largest Customers
If ADP is removed from the data, the overall size of the market drops significantly. The top insurers in the Miami market also shift. As shown below, a look at the second, third, and fourth largest employers, based on 2019 health-related premiums, results in a different competitive landscape, which underscores the importance of considering employer specific data.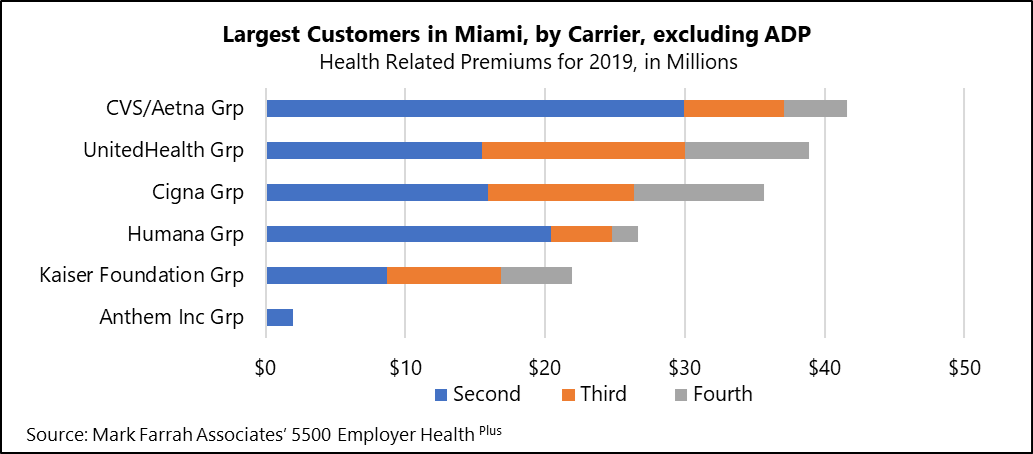 Changes to the Miami, risk-based, health benefits marketplace, excluding ADP, include:
CVS Health (formerly Aetna) becomes the largest insurer in the Miami area, with customers including international World Fuel Services Corporation.
UnitedHealth ranks second, based on total premiums, behind CVS Health.
Cigna joins the ranks of lead insurers, in Miami, with customers such as national employer, Armor Correctional Health Services and regional employer, City National Bank of Florida. Cigna was not offered by ADP during the reporting period, according to the 5500 data.
Anthem has a minimal presence in the Miami area, with only two customers, ADP and Travel Traders Hotels.
This Business Strategy report only focused on the fully insured/risk-based sector and excluded employers that have other funding types, such as Administrative Service Only (ASO) or self-funded policies. Form 5500 reporting can shed light on the competitive insurance marketplace for any given city, state, or at the national level, as well as by industry and funding types. With proper examination, this data can be expanded to any state or region, providing more depth and opportunities to explore the impact private sector health insurance business can have on the industry.
About 5500 Employer Health Plus
The data used in this analysis brief was obtained from Mark Farrah Associates' 5500 Employer Health Plus. This tool has been designed to simplify the analysis of employer health & welfare benefits including medical, dental, vision, disability, and other options. MFA's 5500 Employer Health Plus uniquely focuses on health & ancillary benefits purchased by private sector employers and the relationships employers have with contracted insurers, administrators, and brokers. The user interface allows for both detailed and summary level data retrieval.
About Mark Farrah Associates (MFA)
Mark Farrah Associates (MFA) is a leading data aggregator and publisher providing health plan market data and analysis tools for the healthcare industry. Our product portfolio includes Health Coverage Portal™, County Health Coverage™, 5500 Employer Health Plus, Medicare Business Online™, Medicare Benefits Analyzer™, and Health Plans USA™. For more information about these products, refer to the informational videos and brochures available under the Our Products section of the website or call 724-338-4100.
Healthcare Business Strategy is a FREE monthly brief that presents analysis of important issues and developments affecting healthcare business today. If you would like to be added to our email distribution list, please submit your email to the "Subscribe to MFA Briefs" section at the bottom of this page.